</P> <!####################### First Item #####################>
RUSSIAN PEOPLE ERECT
"TEAR DROP" MEMORIAL
IN BAYONNE, NJ



This is the "TEAR DROP" made
and installed by the Russians to honor
those who died in 911 and a
statement against terrorism.

It is very impresive.

The tear drop is lined up with the
Statue of Liberty.

Click on the picture of the "Tear Drop" to view a Power Point presentation
on the building and planning of this memorial gift from Russia.

The presentation consists of
21 panels and you will need to
click your mouse to advance the slides.
---
<!############################>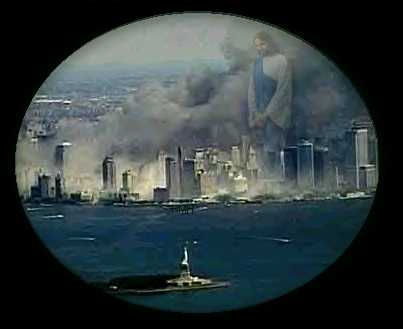 911 stories from ND56 Domers
---
<!############################> From: Carl Austin, CLU, CWP

THE LADY

I wonder what she thought
As she stood there, strong and tall.
She couldn't turn away,
She was forced to watch it all.

Did she long to offer comfort
As her country bled?
With her arm forever frozen
High above her head.

She could not shield her eyes
She could not hide her face
She just stared across the water
Keeping Freedom's place.

The smell of smoke and terror
Somehow reduced her size
So small within the harbor
But still we recognized...

How dignified and beautiful
On a day so many died
I wonder what she thought,
And I know she must have cried.
---
<!##########################################>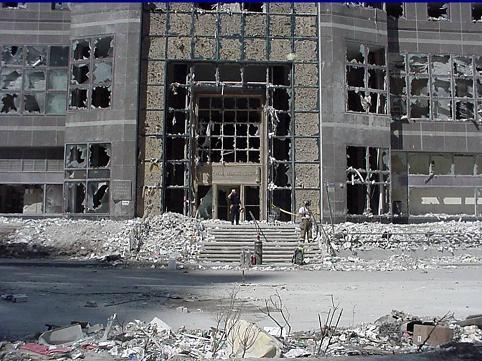 Click on the picture to download a Power Point Presention of the 911 damage.
It is a large file and may take a while to download. You can advance from picture to picture by left clicking your mouse.
ONE
As the soot and dirt and ash rained down,
We became one color.
As we carried each other down the
stairs of the burning building,
We became one class.
As we lit candles of waiting and hope,
We became one generation.
As the firefighters and police officers
fought their way into the inferno,
We became one gender.
As we fell to our knees
in prayer for strength,
We became one faith.
As we whispered or shouted
words of encouragement,
We spoke one language.
As we gave our blood in lines a mile long,
We became one body.
As we mourned together the great loss,
We became one family.
As we cried tears of grief and loss,
We became one soul.
As we retell with pride of
the sacrifice of heroes,
We become one people.
We are:
One color
One class
One generation
One gender
One faith
One language
One body
One family
One soul
One people
We are The Power of One.
We are United.
We are America.
---
<!########################################################>

The following notes were received from ND56 Classmates following the 911 Tragedy;
I just wanted to share them with you ...
I refer you to the ND56 WEB PAGE and the ND NEWS link for a South Bend Tribune article on the Memorial Mass on the ND So. Quad celebrated by Fr. Malloy Tuesday afternoon.
jfm
---
<!########################> September 18, 2001
Dear Faculty and Staff Colleagues,

Many members of the Notre Dame community are looking for ways they can effectively support the victims of the terrorist attacks that took place last week. As you may know, Campus Ministry has organized collections which took place last weekend in the Basilica of the Sacred Heart and at all residence hall Masses. The funds raised from these collections will be sent to New York City to support the families of the members of the New York Fire and Police departments who lost their lives. Similar collections will be taken up in the Basilica and the residence halls this weekend, and a collection is also planned for this weekend's football game.

We encourage you to support these campus-wide collections and would also like to offer several additional avenues through which you might offer your financial support for those who have lost family members and loved ones in the tragedy and its aftermath.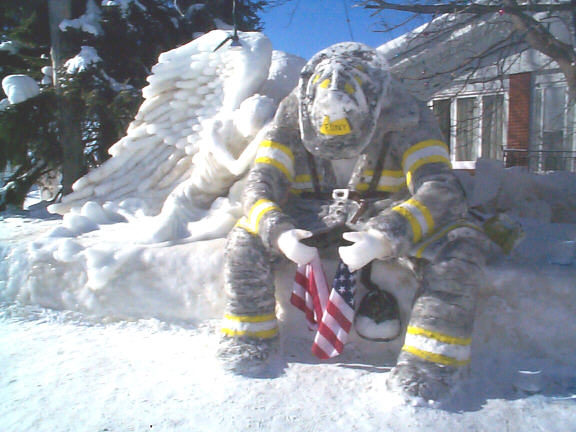 February, 2002 - Carl Austin forwarded this picture to us with the following caption
I AM FROM TIMMINS ONTARIO. THIS IS AN ICE SCULPTURE THAT MY FRIEND CREATED THIS YEAR FOR THE WINTER CARNIVAL.
SHE CREATES ONE EVERY YEAR AND WINS, DO YOU WONDER WHY?

Catholic Charities of the Archdiocese of New York
1011 First Avenue
New York, N.Y. 10022
212-371-1011
www.ny-archdiocese.org/charities/

New York City Fire Safety Foundation
555 West 57th Street,
New York, N.Y. 10019

New York City Police Foundation
345 Park Avenue
New York, N.Y. 10154
www.nycpolicefoundation.org

American Red Cross
www.redcross.org
1-800 HELP NOW

Federation of Protestant Welfare Agencies
281 Park Avenue South
New York, N.Y. 10010
www.fpwa.org

United Jewish Appeal-Federation of New York, FDR Station
P.O. Box 5314
New York, N.Y. 10150
1-800-UJA-FED-7
www.ujafedny.org

Salvation Army USA
www.christianity.com/salvationarmyusa;
1-800-725-2769

The Survivors' Fund of the Community Foundation for the National Capitol Region
1112 16th Street, N.W., Suite 340
Washington, D.C. 20036
1-202-488-2060

The Uniformed Firefighters Association
204 East 23rd Street
New York, N.Y. 10010
Attn: UFA Widows and Childrens Fund

For those who wish to offer support to further research and other activity into peace and conflict resolution, we offer the following: The Kroc Institute for International Peace Studies
attn: Program in Religion, Conflict and Peacebuilding
University of Notre Dame
100 Hesburgh Center
Notre Dame, IN 46556
219-631-5665
www.nd.edu/~krocinst/research/religion
email: appleby.3@nd.edu

Jaco Cilliers, Ph.D.
Justice and Peacebuilding Senior Advisor
Catholic Relief Services
209 West Fayette Street
Baltimore, MD 21201-3443
410-625-2220, ext. 3539
www.catholicrelief.org
email: jcilliers@catholicrelief.org

Rev. William Headley
Deputy Executive Director, Policy and Strategic Issues
Catholic Relief Services
209 Fayette Street
Baltimore, MD 21201-3443
410-625-2220, ext. 3555
email: wheadley@catholicrelief.org

Migration and Refugee Services
United States Conference of Catholic Bishops
3211 4th Street, N.E.
Washington, D.C. 20017
(Donations will be used for refugee protection needed from any overseas conflict).

Thank you for your support and your ongoing generosity.

Sincerely,
Nathan O. Hatch, Provost
Rev. Timothy R. Scully, C.S.C., Exec. VP
---
<!#############################################> From Dr. Angelo Capozzi:
This tragedy has hit close to home.
The son-in-law of Joe Di Lallo was in one of the towers and is missing. Tommy Clark is married to Joe's daughter, Lisa, and they have two children. Please remember them in your prayers.

9/19- From Al Parillo:
Tommy Clark is still missing, Joe DiLallo's second daughter, Laurie, her husband and two small children are without a home ( their apartment in a high-rise a couple of blocks from the WTC has been condemned), and staying at the moment with their sister, Anne, in Summit.

Joe's wife, Lillie, seems to be improving, but still terribly shaken. Parillos spent the better part of Friday with the DiLallo family at Lisa and Tommy's house, and then with the Clarks who live right here in Short Hills. I won't attempt to describe the mood that permeated both homes: suffice it to say it was somber.

We all feel so helpless: a desire to volunteer our service has been thwarted. We keep hearing as the days go by of other friends and acquaintances who are missing--it's all so incredibly sad. Our towns are consumed by grief--Short Hills, Millburn, Maplewood, Summit--home to so many men and women who work in the financial district. One particularly sad moment for me was driving a few blocks away to a spot on a hill in Summit and gazing at a skyline permanently mutilated. I'll keep in touch as things develop.

Tommy's company is Sandler & O'Neill -- 69 employees are missing, 117 escaped safely. They shared part of the 104th floor with Cantor Fitzgerald, who lost over 700 as of last count. Tommy's uncle is our Dave Clark, and his father is Rich Clark, '57.

10/3/01 FROM Dr. Angelo Capozzi:
I just got the latest on Tommy Clark. They found some remains and got a positive DNA match. His wedding band was intact. The remains will be cremated. Lisa and Tommy had two children, an infant and a 2 year old.

They have set up a Thomas R, Clark Childrens Memorial Fund: P.O. Box 1413 Summit N. J. 07902-1413.
---
<!#############################>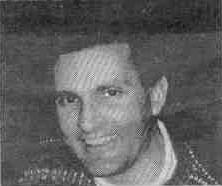 We have lost our son Kevin in this attack.
He was on the 100th floor of the first building.
He worked for Marsh Mclean and they say that only 700 of the 1700 in that building are accounted for..
Keep praying TIM MURPHY
TIM and SALLY'S ADDRESS IS: SALLY & TIM MURPHY 8700 BARDMOOR CIRCLE WILMINGTON, NC 28411-8308
Newspaper obituary
MURPHY - Kevin James, of Northport, LI, formerly of Smithtown, on September 11, 2001, at the World Trade Center disaster. In his 40th year. Claims consultant with Marsh McLennan. Loving husband of Beth (nee Ryan), formerly of Wantagh, NY. Devoted father of Connor and Caitlyn. Beloved son of Timothy and Sally. Dear brother of Timothy, Michael, Jack and Mary Beth Dougherty. Also survived by many loving friends and family members.

Memorial Visitation will be at The Nolan & Taylor-Howe Funeral Home, 5 Laurel Ave., Northport, NY, Thursday, September 27, 7-9pm and Friday, September 28, 2-5 & 7pm

A Memorial Mass will be held on Saturday, September 29, 2001 at Our Lady of Queen of Martyrs RC Church, Centerport, NY.

Donations to The Murphy Children's Education Fund, c/o Fleet Bank, 680 Fort Salonga Rd., Northport, NY, 11768 in his memory appreciated.
---
<!################################> From: FRANK REZNICK and JOYCE and BOB BRAUN

Subject: A Prayer For OUR Nation
Dear Heavenly Father,
We are moved by the alarming news and crisis that our country is facing.
This, the greatest nation, founded in the believe that "In God We Trust" & the "Land of the Free".
Please have mercy on those suffering, hurting and in fear, and give wisdom & strength to those who are assisting.
May the forces of evil be broken by your power and may we humble before thee, our strength and refuge.
Give wisdom to all our President & our leaders and bring your comforting peace through the power of your Holy Spirit.
Help us here to reach to those that have been affected by this tragedy.
In the name of our Lord and Savior, Christ Jesus. AMEN
---
<!#####################################> Stunned at the magnitude of events is hardly what I feel.
I can't reverse history but I can honor the innocents, cheer the untireing NY workers, and hope that we as a human race can try once again to learn from our needless tragedies.
Two friends phoned me in the last 48 hours.
One was fired from her job last Friday. The other, for the first time in her adult life overslept on Monday morning and couldn't get thru on the subway to south Manhattan.
Both worked on the 40th floor of the World Trade Center.
We live in hope, JUSTIN O'BRIEN '56
---
<!################################> I'm OK. I hope you're OK. It took our son till 8:30 last night to get home from midtown. I was able to follow his odyssey by e-mail (he has a pager with a keyboard). Otherwise we just spent the day glued to the TV, suggesting this unfunny haiku.

Hosts of journalists
Groping for words to express
The unspeakable.

This tragedy has hit close to home literally. Our new next door neighbor, Michael Uliano, worked on the 107th floor of WTC #1. He hasn't been heard from. Please keep him and his wife in your prayers.
There's a time to laugh and a time to cry. This is the latter, so I don't plan to be sending out poems for a while. Peace be to you all.-- Bob Mc Kenty
---
<!################################> We're depressed,mad,stunned and teary-eyed like everybody else but today it hit us harder--we were acquainted with two victims who were identified today. Who knows how many more will follow ?
Both were members of our church. Gary Smith was in the Pentagon at a meeting. He has not been found. He leaves a wife and four daughters,some of whom were classmates and friends of our boys.
"Jake" Jacoby was the COO of Metrocall, a large electronics company. His mistake was being on a flight from Dulles to CA--it ended in the Pentagon. He and his wife are friends of our son and daughter-in-law, Jack & Coleen, and they vacationed together in Hawaii last winter. I can't make any sense of this, as none of you can as well.
I just felt the need to put this down on "paper" in an effort to vent my frustration.
I'm not sure it will help. God save us all.
John Murray
---
<!################################> All across Europe, leaders have stated their sympathies with the US. Prime Minister Tony Blair stated firmly that the United Kingdom will stand firmly with the United States, "shoulder to shoulder." In addition to all aircraft being stopped in North America, Great Britain has stopped all non-essential flights, and all small aircraft are not allowed to fly. In addition, All police and the military has been placed on the highest of alerts and Parliament has been recalled. Under no circumstances shall any aircraft fly over London, and Canary Warf and the City of London (the square mile-London's financial district) were evacuated as a precaution. Similar steps have been taken throughout Europe and Russia. The Foreign Secretary, Jack Straw, is on his way to Brussels to discuss the situation with the European Union. And in Germany, similar steps have been taken-The German government held a special prayer service and Mass this morning in memory. My mom and dad are currently in Paris, and they stated the French Police have a huge presence in the city. Unsure how or when they'll be able to return home to the USA-as with my brother, who is now trapped in Scotland-were supposed to leave today for the west coast.
More international reaction can be found at:
The London Times: http://www.thetimes.co.uk
The Guardian: http://www.guardian.co.uk/
The BBC: http://www.bbc.co.uk
The Canadian Broadcasting: http://www.cbc.ca
The Australian Broadcasting Co: http://www.abc.net.au
Moscow Times: http://www.moscowtimes.ru
Joe Eustermann (son of Kitty and Dr. Jim Eustermann)
---
<!####################################> Early yesterday, we moved as we did the day before...and the day before that.
We said things that seemed important at the time and dealt with issues in the usual way.
Later, our world changed irreversibly. Suddenly, we walked differently, said little, lost in our thoughts and prayers.
We went to dinner at Harvey's, not wanting to cook, almost not wanting to eat. At 8:30, President Bush came on television. Immediately, every conversation abruptly stopped. We listened to his words, regardless of our political persuasion, and felt proud. Deeply saddened, but proud, briefly united in our disparate lives.
God guide our nation and all of us in it...on the new path we must take.
Tom Cagley
---
<!#################################> Here is a note I received from a high school classmate re: NYC. Thought it might interest you.
Yesterday was a terrible day for everyone.
No one in NY was left untouched. The lives of many, many people in New York have been affected by these murderous acts. Even here in Cold Spring. These Arabs are profoundly ignorant people who strike like serpents and then hide behind the skirts of their numerous wives and other civilians to prevent retaliation. They have been ignorant for the past 1,500 years and I think, since we now have the power to do it, we should send them all back to their Maker before they get the idea that slamming into our nuclear powerplants is a good idea.

It was a tough day for me, too.
My son Tom is a vp at Bank of NY, which is very close to the World Trade Center. He watched in disbelief as both planes slammed into the two towers. When he went outside and was about 40 yards from Bldg #2, it started to collapse and he had to run for his life.The things he saw and felt while sprinting away from the collapsing building were horrendous. He ducked into an Irish Pub till the concussion, smoke, and dust of the collapse roared past and he eventually made it home to Staten Island via ferry where his wife met him. So we didn't know until around 5 o'clock that he was OK. He spent the night driving people to their homes when he got off the ferry. He was always a generous kid, and a good athlete in high school and at Manhattan College. He got a workout yesterday, and told me he couldn't sleep, thinking about the two commercial airliners cutting into the WTC and the heartbreaking sight of people mixed with glass and papers, falling or jumping from great heights. His building is now condemned. Funny he remembered it was an Irish Pub.

Another son, Jim, works about a mile from the Trade Center, so he didn't have to do any running. But he lost his best friend, Dennis Marone, who worked for Cantor Fitzgerald on the 100th floor of WTC #1. Dennis went into work at 7AM. He has not been heard from. He has three little kids. A thousand Cantor Fitzgerald workers have not been accounted for.

My cousin Danny was supposed to be at the top of the WTC, but was not. He may have been in the Irish Pub that Tom ducked into, or on his way to work. After 8 hours of wondering he came home and everyone was relieved. He may not have been working overtime, but his guardian angel was.
JIM SASSO
---
<!######################################> From Ed Denn
By Leonard Pitts Jr.
Published Wednesday, September 12, 2001
Miami Herald Editorial

We'll go forward from this moment

It's my job to have something to say.

They pay me to provide words that help make sense of that which troubles the American soul. But in this moment of airless shock when hot tears sting disbelieving eyes, the only thing I can find to say, the only words that seem to fit, must be addressed to the unknown author of this suffering.

You monster. You beast. You unspeakable bastard.

What lesson did you hope to teach us by your coward's attack on our World Trade Center, our Pentagon, us? What was it you hoped we would learn? Whatever it was, please know that you failed.

Did you want us to respect your cause? You just damned your cause.

Did you want to make us fear? You just steeled our resolve.

Did you want to tear us apart? You just brought us together.

Let me tell you about my people. We are a vast and quarrelsome family, a family rent by racial, social, political and class division, but a family nonetheless. We're frivolous, yes, capable of expending tremendous emotional energy on pop cultural minutiae -- a singer's revealing dress, a ball team's misfortune, a cartoon mouse. We're wealthy, too, spoiled by the ready availability of trinkets and material goods, and maybe because of that, we walk through life with a certain sense of blithe entitlement. We are fundamentally decent, though -- peace-loving and compassionate. We struggle to know the right thing and to do it. And we are, the overwhelming majority of us, people of faith, believers in a just and loving God.

Some people -- you, perhaps -- think that any or all of this makes us weak. You're mistaken. We are not weak. Indeed, we are strong in ways that cannot be measured by arsenals.

IN PAIN

Yes, we're in pain now. We are in mourning and we are in shock. We're still grappling with the unreality of the awful thing you did, still working to make ourselves understand that this isn't a special effect from some Hollywood blockbuster, isn't the plot development from a Tom Clancy novel. Both in terms of the awful scope of their ambition and the probable final death toll, your attacks are likely to go down as the worst acts of terrorism in the history of the United States and, probably, the history of the world. You've bloodied us as we have never been bloodied before.

But there's a gulf of difference between making us bloody and making us fall. This is the lesson Japan was taught to its bitter sorrow the last time anyone hit us this hard, the last time anyone brought us such abrupt and monumental pain. When roused, we are righteous in our outrage, terrible in our force. When provoked by this level of barbarism, we will bear any suffering, pay any cost, go to any length, in the pursuit of justice.

I tell you this without fear of contradiction. I know my people, as you, I think, do not. What I know reassures me. It also causes me to tremble with dread of the future.

In the days to come, there will be recrimination and accusation, fingers pointing to determine whose failure allowed this to happen and what can be done to prevent it from happening again. There will be heightened security, misguided talk of revoking basic freedoms. We'll go forward from this moment sobered, chastened, sad. But determined, too. Unimaginably determined.

THE STEEL IN US

You see, the steel in us is not always readily apparent. That aspect of our character is seldom understood by people who don't know us well. On this day, the family's bickering is put on hold.

As Americans we will weep, as Americans we will mourn, and as Americans, we will rise in defense of all that we cherish.

So I ask again: What was it you hoped to teach us? It occurs to me that maybe you just wanted us to know the depths of your hatred. If that's the case, consider the message received. And take this message in exchange: You don't know my people. You don't know what we're capable of. You don't know what you just started.

But you're about to learn.
---
<!#####################################> Thank God I'm retired and no longer working in New york City. Spoke with Hal Spencer yesterday and he is safe and sound despite a very long walk out of the city. This whole disaster makes you sick, and I find myself getting angrier each passing day........
Keep the Faith..... Joe Keenan
---
<!################################> From Bob McKenty: I said I wouldn't be writing poems for a while; I didn't say I wouldn't have comments.
First, thanks for your messages of concern and your prayers for our neighbors--and us.
Second, I have been mightily impressed with:
- firefighters, police, and rescue workers
- Mayor Giuliani's tireless leadership, candor, and compassion.
- the designers of the World Trade Center towers, that they could sustain such hits without toppling immediately, allowing thousands to escape; that when they could no longer sustain the heat they crumpled like buildings deliberately imploded by experts at demolition.
- The incredible response to the call for blood. Our local blood bank in Shrewsbury had hundreds waiting in line Tuesday afternoon, and hundreds More show up Wednesday morning. Local merchants (Stickles for one) donated crates of fruit, drinks, cookies, donuts. The staff were very considerate. one man I met donated in spite of the fact that he always faints when he does (he didn't, but he got woozy and had to lie on the floor with cold compresses on his head and neck afterward). This kind of response was nationwide, and is just a small part of what individuals and corporations are doing to help.
- the courage of our neighbor, Linda, as she awaits some word from or of her husband, Michael Uliano, who worked for Cantor Fitgerald, whose tearful CEO was interviewed by Connie Chung on ABC yesterday. If you get the Asbury Park Press, check p. A13 in today's paper for a very sensitive article about Linda--who is also being treated for breast cancer (good prognosis). Maybe you can find the article online at www.app.com. So far I haven't been able to.
- My wife, Mary, who always knows what to do and when, what to say to offer comfort and care.

Seeing the heroism, generosity, and compassion of ordinary people turned extraordinary, I am confident that Good is stronger than evil, Love stronger than hate.
Peace be to you.-- bob
---
<!#####################################> AMERICAN FRIENDS...
Just two words to tell all of you the great sadness that my wife Rosario and myself feel for the attacks in New York, Washington and the deaths in Pennsylvania. All of the thousands of people that were sacrified by those "ungodly inhumans", will be remembered forever and their assasins will be forgotten today and will stay in ostracism.

Americans all over the world are receiving condolences from decent people, that appreciate what the American people have always done for humanity. Now is not the time to talk about the foreign policy of the USA, they have done what any free and democratic nation in their position will do. All nations in one way or another know of the help, real help, that they have received from the USA. For Latin America, just think of JFK's Alliance for Progress project that helped so much the whole southern continent and there was not a repayment to be made. For Europe, the Marshal Plan and in the rest of the world, of the many opportunities that American servicemen and volunteers have helped many countries in disasters and distress.

GOD BLESS AMERICA!!!
CARLOS A. CHAMBONNET
PANAMA CITY, PANAMA
14 september 2001
---
<!######################################> From DICK RUPP:
Assuming that Osama bin Laden orchestrated the attacks on America, assuming hard evidence, what do we do? One option to to rain cruise missiles on assorted sites in wretch Afghanistan, adding Afghan deaths to American ones. Besides, we tried that once, and it didn't work. What other options do we have?

Not being Colin Powell, I don't know them all. But here is what I would do. First, a UN declaration of resistance to world terrorism. I know the UN isn't good for much, but it can make resolutions. Second, round up the usual Arab suspects, at least any who go on record opposing terrorism. Then send an Arab delegation to Kabul to talk sense with the Taliban, assuming they are willing to listen. Include a couple of mullahs who question Allah's intention to destroy Americans. Bring sweet reason to bear on Taliban complicity in bin Laden's terrorism. If the Taliban is willing to hand bin Laden and his cohorts over to the World Court, as Yugoslavia did Milosovich, wait until delivery at the Hague, then send food, medicine, engineers, and the like along with sufficient funds to help Afghanistan rebuild. Establish schools, rebuild roads, open hospitals, send in the Peace Corps. Offset bin Laden's malign influence, sequestering all his funds, and offer international aid in return for handing the terrorist over. Give them thirty days to comply. If that doesn't work, begin reprisal measures: economic isolation, no-fly zones, a UN peacekeeping force, etc. In short, use the Yugoslav model on the Afghans. If none of these measures work, take overt military action.

What we don't want is rage and unreasoned response to a very difficult situation. A crisis is a threatening opportunity, the Chinese tell us. Perhaps, just perhaps, we can use this world crisis to promote Arab unity in the cause of world peace. And pray. Pray hard.
---
<!#############################################> From HAL SPENCER:
Working in NYC is similar to being at hand grenade practice I think. I am at 19 Fulton (at the East river side of lower Manhattan, got tons of dust, rumbles and shakes, saw thousands of people wearing greyish clothing with bandanas and surgical masks... I waited until 11:45 to leave, and walked some 6 miles over the bridge and thru Bklyn to get to the LIRR which got me home about 4:15. I guess I have no complaints. Everyone on our cul de sac seemed pleased to see me even thought they knew I was 100% safe. It was great to be a hero for those 10 minutes. Our three sons live in Pitts, NJ (works on 120 Bway - he's OK) and #3 in the DC area. Thought Osama had something against the Spencer clan...Mike Carr's office is a little further away from scene than Hal's--we'll try to reach him tomorrow. Real tough going!!!
---
<!###############################> From JOHN SOWA:
Thanks for relaying the messages for our classmates! All of my family reported in via e-mail. I think one used wireless e-mail. Several were close enough in NYC and Wash DC. and could have been in the ground zero areas but events spared them. It's disturbing that the NYC planes circled over airways above us in the Albany area, especially with the National Guard and anti-terrorist's groups stationed here. How could unidentified craft be allowed to circulate here without a challenge. A large air show had ended the day before.

At the same time, I can't imagine shooting down one of these planes marked with AA and certainly filled with passengers. One of my sons was in the WTC 8 years ago and I am amazed that so many were able to evacuate the WTC with its narrow, unlight, smoke filled stairways. Still so many couldn't make it.
---
<!##################################> From FRANK REZNICK:
Israeli Intelligence: Iraq Financed Attacks
GEOSTRATEGY-DIRECT.COM
Wednesday, September 12, 2001
Iraq recruited Saudi billionaire fugitive Osama Bin Laden and his Islamic allies to carry out the suicide attacks around the United States, according to Israeli intelligence.

Israeli officials and intelligence analysts said the suicide hijackings that downed the World Trade Center and destroyed parts of the Pentagon was too large an operation for any one group. The analysts said the operation was also too big even for a coalition of Islamic terrorists headed by Saudi billionaire fugitive Osama Bin Laden. Bin Laden is accused of masterminding the bombings of the U.S. embassies in eastern African in 1998. Intelligence sources briefed the Cabinet of Prime Minister Ariel Sharon on late Tuesday, hours after the catastrophe in New York and Washington, Middle East Newsline reported. The sources were quoted as telling the Cabinet that a Middle East government was probably the sponsor of the attack. The most likely sponsor for such an attack, the sources said, is Iraq. The Baghdad regime has long maintained an alliance with Bin Laden and Islamic groups.

"All the steps lead to him [Bin Laden]," Reuven Paz, a leading expert on Islamic terrorism, said. "Of all the countries, Iraq seems the most reasonable [candidate]."

In Baghdad, Iraqi state television appeared to welcome the bombings. The television said the spate of attacks demonstrated the vulnerability of the United States.

"The massive explosions in the centers of power in America, notably the Pentagon, is a painful slap in the face of U.S. politicians to stop their illegitimate hegemony and attempts to impose custodianship on peoples," the television said. "It was no coincidence that the World Trade Center was destroyed in suicidal operations involving two planes that have broken through all U.S. security barriers to carry the operation of the century and to express rejection of the reckless U.S. policy."

"The collapse of U.S. centers of power is a collapse of the U.S. policy, which deviates from human values and stands by world Zionism at all international forums to continue to slaughter the Palestinian Arab people and implement U.S. plans to dominate the world under the cover of what is called the new [world] order," the television added. "These are the fruits of the new U.S. order."

The Israeli Cabinet was informed that the United States might launch a massive attack on Iraq and Afghanistan over the coming days. The sources said such an attack could prompt a regional war.

On early Wednesday, Afghanistan appeared to have been a target of retaliation. Several bombings were heard in the Afghan capital of Kabul. U.S. officials denied that their country was responsible.

In the aftermath of the suicide bombings in the United States, Israel closed its air space. Israel also warned the Palestinian Authority to immediately stop all attacks against the Jewish state.
---
<!######################################> From From TERRY & KARL MARTERSTECK:
Such a horrific week this has been. The event of the century has already happened. Karl and I were on a Dulles to LAX flight not 24 hours before the horrors, so we feel grateful to be here. I'm sure there are many similar stories of near escapes far more eerie than ours. Terry Martersteck
---
<!#########################################> From MIKE LUBERTO:
Our youngest son Bill works as a manager for Accenture and spent the last eleven months, until last June, working at one of the buildings of the towers. He since has been sent to Alaska and is presently in Scotland for a few weeks as part of his job. Thank God.
---
<!#########################################> From JACK GUEGUEN:
Thanks very much for forwarding those messages, which help to pinpoint our prayers for the victims and their near and dear. As a student of history, I felt an eerie solidarity with people in Rome as they witnessed the first of a series of barbarian attacks, which must have seemed equally incredible to them. Our vastly superior technology means, among other things, that the new barbarians have instruments of destruction at their disposition which could not have been dreamed of by the Vandals, Goths, and Huns. These events are also a powerful reminder of warnings that fill the pages of Scripture and the Church Fathers, such as St. Augustine. Truly, we have here no lasting city. Please feel the solidarity of my prayers.
---
<!#########################################> From ED DENN:
Subject: WTC tenant list.
http://www0.mercurycenter.com/local/center/tenants091101.htm
---
<!#########################################> From RAY PAPAY:
I submit a prayer which is only known in part. It is comforting in difficult times like the present.
God, grant me serenity to accept the things I cannot change,
Courage to change the things I can,
And wisdom to know the difference.
Living one day at a time;
Enjoying one moment at a time;
Accepting hardship as a pathway to peace;
Taking, as Jesus did, this sinful world, as it is,
Not as I would have it;
Trusting that you will make all things right,
If I surrender to your will,
So that I may be reasonably happy in this life,
And supremely happy with you forever in the next.

The Serenity Prayer was written by Reinhold Niebuhr and after I lost a loved one, God helped me to set it to music. So now I sing it at funerals when surrender to His will is essential, though difficult.
---
<!#########################################> From Dr. BUZZ FINN and JIM HLAVIN:
Subject: Proud!! Something to touch us all. Click~~~> ~In Loving Memory~
http://www.geocities.com/txmytx/inlovingmemory.html
---
<!#########################################> From an associate of TOM CAGLEY:(9/13)
: Just had a bomb scare in Macy's and Penn station. All buildings on seventh Ave., including us, had to evacuate. No cell phone service once outside. Anyway, I am back and that's it. Everyone else did not return. Just heard on the radio that now there is a bomb scare in Grand Central terminal as well as La Guardia airport. very crazy in NY.!!!!
And also from TOM CAGLEY:
I have a friend here, Beau , who has a sister named Rita. Her grandson called tonight to say goodbye...he's shipping out to Afghanistan tomorrow a.m. on an aircraft carrier.
---
<!#########################################> From JIM MC CARTHY:
My "take" of bin Laden's "mentality?..............have heard the gamut; from deranged lunatic..... to diabolically clever, " Gold Finger" type character, who did this just to make a killing in the market by selling airline stocks short. Probably just an ultra- mean, egomaniacal bullshit artist and gangster, with a fair amount of money. Doubt if he is the whole show. The actual suicide terrorists are another story. Guess some are deluded into thinking of themselves as soldiers...Others going along because they like conspiracy and feeling "important"....and then can't manage to get out of it at the last moment. Who knows?
---
<!####################################> From Dr. Gordon DiRenzo, ND56 Co-President
On Friday, I was enlisted in my capacity as a clinical psychologist to provide grief and supportive counseling for hundreds of local employees of a corporation that is/was headquartered in the World Trade Center. Reactions, as expected, were mixed, with few people being directly victimized. Among other things, I discussed PTSD (post-traumatic stress disorder). Monitor yourselves, family, and friends for this.

Yesterday, with my credentials as a medical psychologist, I was able to gain entrance to Ground Zero at the World Trade Center. In the company of the FBI, who lost their headquarters in Building #7, I was within 30 yards of the debris (from two 100-story buildings) which was only about one-story tall. The explanation seems to be that these towers had multi-levels below ground (including the bunker of the Mayor) and the implosion just descended clear to the bottom. One reason apparently why no bodies yet have been recovered. The debris from Building #7, lacking the substructure, was about three stories high and still burning. Of course, as with just about everyone else in the proximity, I had to wear face mask and all.

The sight, although cleaned up much after three days, was unbelievable, I can only offer brief notes. The twisted steel beams, clamped by gigantic and powerful extractors, would not budge so solidly were they embedded in rubble. Massive pieces of steel that did yield had to be cut into manageable size by acetylene torches. Fireman, police, soldiers, and rescue personnel were all over the place. Even the press and TV folks were about six blocks behind us. All stores and businesses within a twelve-block radius were closed, many severely damaged. Wall Street, nearby, was in good shape--almost no damage to buildings. The street was being torn up so that temporary electricity (three cables each about two inches in diameter) could be laid for tomorrow's opening. Rows and rows of gigantic trucks for hauling debris (an entire massive fire truck, destroyed in secondary collapse on the first day, was loaded within one truck and carted off. Rows of ambulances inactively lined one street--no survivors of dead bodies were being retrieved. Street corners were stacked with all kinds of (free) food, gloves, blankets, boots, medical supplies, underwear, etc. for the personnel on the scene. Thousands of pieces of paper records (e.g., letters, memos, financial records, business cards) were strewn all about and imbedded in the pulverized concrete turned into a paste by Thursday's rain.

Given that no recoveries were being made, and all the people on the scene were rescue personnel who appeared to have emotionally anesthetized themselves, there was little for me to provide by way of professional service. So, I visited many other locals, parks and rescue centers, through lower Manhattan. Again, the scenes were sorrowfully moving, yet inspiring. Thousands of 8x11 posters containing names and identification of missing people, with names and numbers of people to contact. These posters were everywhere, on walls and buildings, and even in phone booths. They undoubtedly serve as a catharsis for family and friends, but in reality are and will be memorials--sadly until the first rain comes. It is impossible to look, let alone make a mental picture, of the thousands of photographs. Some got to you, like one photo of a little girl and her father, with the message "Has anybody seen my daddy?"

There were several rescue centers. I was able to visit, again thanks to my medical credentials, the most important one at Lexington Avenue and 24th Street. Hundreds of police and FBI people interviewing family and friends, along with interpreters as necessary, who wish to report (in lengthy forms about body characteristics, missing body parts, jewelry, and clothing one might have worn) people missing. Here the need for psychological/ psychiatric services was greater an adequate personnel were on the scene.

Street prayers, street singing, musical groups were all over the place. New Yorkers were uncommonly polite and courteous. Security was tight. Two or three policemen on street corners, or only one were you would never find one otherwise. No taxis were allowed to pick up or leave off passengers at Grand Central Station. Saks Fifth Avenue removed everything from their store windows and replaced them with an American flag and a huge bouquet of flowers. Walking through Mulberry Street in the Italian section, I noticed workers dismantling the street decorations that had been put in place a few weeks ago for today's annual Italian Festival.

On Canal Street, in Times Square, on 42nd Street, and many other places, American capitalism (the target of the terrorist attack) was in full operation as the indispensable tee-shirt, printed with a replica of the towers and various slogans, were being hawked at "One for $5.00, two for $9.00)! But, in all fairness, many a fast buck was being made by selling American flags of all sizes.

I could go on and on, but it's late and very early tomorrow I shall don my cap as a clinical psychologist again and respond to another full-day enlistment to provide grief and emotional counseling for local employees of yet another corporation that is/was headquartered at the World Trade Center with about 4500 employees, many of whom are/were colleagues and friends of the local people.

Today, in the spirit of the words of LBJ, who upon taking his oath of office after the death of JFK, said to the nation, "Let us continue!" I went out and cut my grass, and planted some flower bulbs which next Spring, like the future of America, will emerge bright and beautiful. God bless America!
Gordon DiRenzo
---
<!#############################################> From the Aunt Marie of RAY PAPAY:
Have been to Mass every day. All the churches in the area have had Memorial Masses for the victims and families. Going to my Church of the Nativity in Fair Haven tonight for another Memorial Mass. That town has been hit badly. I noticed at the last Mass there were mostly young families with children. Most of the victims were so young. The silence here is deafening.
---
<!#################################> From Dr. John Snyder of London, Ontario:
I received the following e-mail from my daughter, Cathy, today. I thought I would send it along. The horrors of the past week touched many people, some a lot more than others. Some of the airlines that were unable to land in New York were diverted to other places. Many landed in Halifax. They did not have persons involved in the crashes but they were greatly inconvenienced, some for many days. This is just one story and I am sure that there are many. John Snyder

Just thought I'd let you know about our holiday to Prince Edward Island. We were scheduled to spend a week on the island golfing with friends on the first weekend and spending the week by ourselves exploring the island. Our exploring came to abrupt ending on Tuesday after the horrendous terrorist attacks in New York, Washington and Pennsylvania.

Les told me he had to call into the office to make sure everything was alright. The long and short of it is, a Singapore Airlines flight was diverted to Halifax from JFK and Les being the closest Singapore airline staff member to Halifax (5 hour drive) was sent to look after and help 204 passengers and one dog.

So off we drove to Halifax to help. The passengers landed at Halifax airport around 10am and were kept on the aircraft until around 5pm. At that time they went through security and were sent to Millwood High School. They arrived around 730pm. We arrived at 845pm. Upon arrival we were greeted by students of the high school, handing out pizza, Subway sandwiches, juice, water and bags of chips.

For each passenger there must have been 1 volunteer. The support the community gave was beyond words. We were there for 3 nights, sleeping at the school. The school had the telephone company install 15 extra phones with computer hook up. They had cable installed so that everyone could watch CNN and CBC. They also set up another TV for the kids use (there was 5 kids and 2 babies.) The school allowed people access to all but 3 of their rooms to people to sleep in or just sit in and be quiet. They allowed people access to all of their computers to send email messages and surf the Net. The Red Cross arrived with 400 army cots, 400 army blankets (that smelled like oil I might add) more food and helped to look after anyone with medical needs.

The message was sent out that the school required pillows and sheets. The community brought in about 300 pillows and sheets. As time went on, each day people and organizations in the community arrived with cookies, sandwiches, cheese trays and one night someone brought in 4 ice cream store size containers of ice cream and cones. Tim Horton's brought coffee, juice and donuts in each day, Sobey's grocery store brought coffee, bread, peanut butter and jam.

McDonald's provided breakfast one morning. A local church provided dinner one night which included lobster. People also arrived to help, they offered to take people into their home to sleep. If they didn't have a bed they offered home cooked meals and hot showers (the school didn't seem to have hot water at least not when I showered!). They offered to take people on tours to Peggy's Cove, Halifax, Alexander Keith's Brewery tour (a big hit I might add) They drove people to Wal Mart to pick up incidentals(these people were not allowed to get their checked baggage so they only had their carry on) and to the local malls to do some souvenir shopping.

After the terrorist acts, this was proof that good does prevail. The people of Sackville, where the high school was, and the people of Halifax were kind, compassionate and caring. I have nothing but good to say about the staff and students of Millwood High School. The principal did not leave the school, he slept in his office. He arranged an evening of entertainment, including beer and wine for the last night we were there. The rest of the staff took turns staying through the days and nights. The students came each day to help in any way they could. These people have a true sense of community.

The high school has a web site, on which they put pictures of our stay. The web site is www.millwood.ednet.ns.ca. They also allowed people to send messages to the school, you might want to look at them. (Webmaster's note: Pictures of John's Cathy are on page 9, top right corner on the left and page 11 top left hand corner.)

Though our vacation turned to work for Les and in ways for me as well, it is one I will never forget!
Cathy
---
<!#######################################> SOUTH BEND, Ind. -- Coach Muffet McGraw of national champion Notre Dame had a ticket to fly on one of the planes that crashed into the World Trade Center but changed travel plans a week before. McGraw had been ticketed for Tuesday's United Flight 175 to make a recruiting trip to California that was later canceled, university athletic department spokesman Chris Masters said.

Masters confirmed a report that first appeared Sunday on USAToday.com.
The scheduled Boston-to-Los Angeles flight was the second hijacked flight to crash into the World Trade Center, striking the south tower shortly after 9 a.m. ET. The Boeing 767 had been carrying 56 passengers, two pilots and seven flight attendants.

A week before, McGraw canceled the ticket, choosing instead to head from Boston to Providence, R.I., to meet assistant coach Kevin McGuff as part of another recruiting trip, Masters said.

After the attacks, the two coaches joined Notre Dame men's basketball coach Mike Brey -- who also had been in Rhode Island -- and drove a rental car back to South Bend.
---
<!#################################>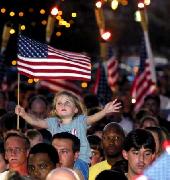 America's tragedy is felt by all the world
Click on the little girl's picture to link to a site that has a collection of pictures from around the world showing sympathy for the tragic acts of 911.
Thanks to Dr. Ken Fromme for making us aware of the site.
---
<!####################################> 17 September 2001
The Honorable Rudolph W. Giuliani
City Hall, New York, NY 10007

Dear Mr. Mayor,
As a former New Yorker (Ocean Parkway, Brooklyn), I have been wondering what we can do to memorialize the five thousand citizens and rescue workers who are buried beneath the rubble of the World Trade Center. My suggestion: turn the site into a memorial park with appropriate sculptures. What you are left with, in fact, is a giant tomb. Does anyone really want to build again over five thousand bodies, incinerated and fused with girders, glass, and dust?

The Parish Board of Holy Trinity Parish will have to consider the matter, as I understand it. Foregoing reconstruction means foregoing millions in future revenue. But how much revenue does the church require to continue ministering to the needs of Wall Street and its congregation? A memorial park would honor the dead in a way that no new building ever could. We find precedents in Hiroshima's Peace Park and in Berlin's bombed church memorial. Consider also the continuing emotional impact of the Vietnam Memorial in Washington. No one can leave that place without feeling deeply moved by the wall of names. Perhaps a similar memorial, or something with doves, a cross, a menorah, and a crescent moon would recall the catastrophe for generations yet to come.

Most of all, a green space with benches, flowers, and a single flag pole would give future Americans a chance to rest from their busy days, to have lunch, or to reflect on the events of September 11, 2001. I pass along this suggestion with the hope and with the prayer that something fitting be done to foster peace and reconciliation in our deeply divided world.

With all good wishes, I remain
Richard H. Rupp, Retired Professor of English
Brooklyn College, 1972-74
---
<!########################################> I sat last evening and decided to vent some frustration by writing. It did me a lot of good. Hope this might be a pep talk for many. Thanks for reading it.
Mark Beckman

THE UNARMED FORCES

We have been violated. Some unspeakably evil people have accepted our invitation to "Bring us your tires, your poor, your huddles masses yearning to be free" with no thought of being free or letting us help them build a better life. They have used our peaceful generosity as a means of sneaking into our country to strike fear and panic into our lives.

Tuesday was not a Pearl Harbor or an Antietam. With total love and respect for those who gave their lives at those historic places and many in between, those were military people. Those were soldiers who, thankfully for us, made a decision to defend what our country stood for or to fight other soldiers from our country over a difference in the direction our country should take. All of these people had chosen to be "in the line of fire" if necessary. This war was brought on US, the everyday people who go to work and have children and kiss each other good night. The everyday life at home has been traumatized. We have choked on the dust of once great buildings now destroyed. We have been injured and killed while peacefully going about the work and play of everyday America. We have said goodbye for the last time on a cell phone to those who are most dear- not in person but on a _ _ _ _ _ _ _ cell phone!!! This is war against what we do and say and how we act. Our private lives have been violated by a small group of people who are evil and use surprise to kill us just because we have different beliefs and style of life than they do.

How will we respond to this attack on we, the people? How will we respond to others entering our "hood," destroying the beauty of our cities and taking our loved ones from us, not in some far away place but within a commute of our homes?

Our government and military people will play a major roll in ridding the world of this menace and thank God for them. But the ones who will win this war are The Unarmed Forces - us.

Will we continue to have our days ruined by trivial things like orange barrels on the highway? Will we put aside our differences with others because of race and/or beliefs? Will we renew, strengthen and acknowledge the value of the family and cherish the time we spend with our loved ones? Will we hug and kiss those we love and TELL them that we love them every day, knowing it may be the last time we will be able to show our love? Will we smile and greet strangers on the street, knowing that we all are now working at the same job - a common fight for a life we love?

Every person must show strength and firm commitment to our belief in this country and what it means to us and the world, by demonstrating those beliefs. What will sap the strength of the evil people bent on destroying our life will not only be the guns and missals, it will be seeing that we the people in Cincinnati Oh, Libertville IL, Hondo TX, and Billings MT, are not intimidated by these unspeakable acts but instead show more strength and love.

The terrorist creed is built on an assumption that we will splinter, fight each other and crumble over this greatest of all tragedies to hit this country.

These evil people can be anywhere. Because of that we must visibly demonstrate our resolve. BUY A FLAG AND FLY IT EVERYDAY. What our enemy sees and doesn't see will turn the tide of this war. Let them see us united and going about the business of everyday life. Let them see us handle the certain inconveniences that will come with no complaint Let them not see us fearful and angry with one another or using the situation for our own selfish gain.

Once again The Unarmed Forces of this country must show that the more unspeakable the disaster, the closer we become. Once again we must prove that it isn't good to "pull on Superman's cape" or "pull the mask of the Lone Ranger down." It was tried in 1941 and not a year later at Midway Island Admiral Yamamoto said "I fear we have only succeeded in waking the sleeping giant."

In 1941 Franklin Roosevelt said, "We will gain the inevitable triumph. So help us God." Peace, love and courage,
---
<!########################################> There's top security in the Canal and all ports of entry.
Just as an example, the Syrian Ambassador to Cuba came yesterday, as a transit passenger to Panama in route to Nicaragua and wasn't allowed entry for lack of documentation and sent back to Cuba.

Everybody is trying to do their best. The target is to eliminate terrorism with God's help.
CARLOS A. CHAMBONNET 19 september 2001
---
<!#######################> From HAL SPENCER:
Re Sandler O'Neill; just got back from a mass of burial for a long time friend of our #2 son. Knew him forever it seems. Escaped to the roof and they were able to find the body easily. The Church was packed and my heart was broken - that could have been our son rather than the Collins' son with a twist of fate. Just had to tell someone.
---
<!####################################> From Ken Donadio
I have been reading the reactions to last week's evil and tragic attack on our nation. I have been reading the reactions of our ND classmates, the letters to the editor of our local newspaper, and listening to the network news. I have prayed a lot .... alone and with others. I have been searching my own soul for a way to DO SOMETHING to give expression to the reactions inside of me. I find that I am left with two strong emotions: fear and hope.

The fear comes mostly from what I hear as our leaders prepare Americans for a quick and decisive military action. We need to really know who is the enemy? I mean beyond Bin Laden. We really need to pray that our leaders discover this so that they can act with true wisdom, decisively, effectively ..... when they consider using our military might. We really need to pray that our leaders will respect the lessons of history that tell us that no nation has ever been able to subdue the Afghanistani in a land war. We really need to pray that our leaders realize that massive indiscriminate bombing of any nation has been counter-productive, and that to provoke a war perceived by those who hate us as a Christian vs. Islam conflict would be horrific!!! We really need to pray that our leaders will not ask blind patriotism of the American people but instead will have developed a strategy that can be explained honestly to Americans so that we can know and understand the reasons for the demands that will be asked of us as we commit ourselves to the sacrifices of the future. We really need to pray that our leaders will be honest with us. Asking blind patriotism can create division within our nation: Love it or Leave It is not a fair option and can lead to a division among us that plays right into the hands of the terrorists. We really need to pray that this division will not happen. We really need to pray for our leaders.

My second strong emotion is hope. I have noticed both in the messages from our classmates, from whom I would expect measured and thoughtful reactions, but also in my local secular paper (Wallingford, CT), that most comments call for action, but with restraint. A few samples from the newspaper follow: We must choose to act out of love for our country and our freedom and not choose to react out of anger and hate for our enemy. It is guaranteed that anger and hate will destroy the peace in our soul but it is not guaranteed that this will destroy the enemy. Love doesn't preclude justice. We must choose faith not fear. Another reads: Instead of military strikes, what if we spent our billions fighting hunger or injustice in the world. Can military retaliation really keep chemical or nuclear weapons from the terrorist of the future? Or could a more thoughtful response make terrorism an occupation of the past. And in response to a recent attack on a local Pakistani merchant came this letter: Attacking others and further alienating Muslims and Arabs is just what these terrorists want us to do. Saying that any Muslim or person with origins in the Middle East is related to this attack is like saying that all Americans are like Timothy McVeigh and should be exterminated. I hope that nothing happens here and these terrorists attacks by Americans within our own borders will cease.

There is a tangible basis for hope in the future, but it is precarious. Each of us needs to work on it wherever we are. ..with whom ever we work. Pray for justice not vengeance, American humility not American arrogance (Would that our nation's TV journalists learn to report the news and interview foreign diplomats with the dignity and respect modeled by Charlie Rose.)

Thanks for this opportunity to clarify some of my own thoughts. Enjoyed and agree with Dick Rupp's suggestion to Mayor Giuliani and Mark Beckman's Unarmed Forces.
---
<!###############################>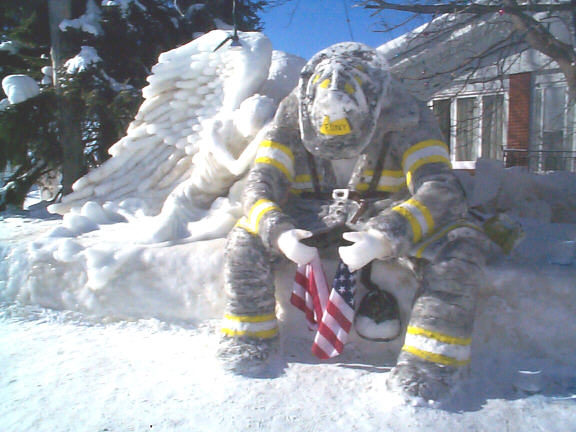 I am profoundly saddened by the tragedy of 9-11 that took my next-door neighbor, three "kids" my kids went to school with or played Little League ball with, a former Equitable employee, and a number of friends of friends. Such horrors are not the stuff light verse is made of (the couplet above is one of only two modest verses I've produced since the tragedy).

Nevertheless, I concur that we should try to get back to "business as usual"--so I'm resuming the Poem of the Day. What I'm wanting in inspiration, I can make up from inventory.

For those of you who have lost loved ones or friends, or who have family in harm's way in the military, my sympathy and my prayers are with you.
--Bob McKenty
---
<!#######################################>