News About Our Classmates
Updated June 24, 2017
---
ND56 CLASS OFFICERS
PRESIDENT: MARK BURNS
VICE-PRESIDENTS: GERALD KENNY, PAUL NOLAND, SIDNEY WILKIN
SECRETARY: JOHN MANION
TREASURER: EDWARD COSGROVE
ND56 WEB PAGE: WWW.ND56.ORG
---
ENDOWED SCHOLARSHIP FUND
TOPS $MILLION IN YOUR GIFTS
$1.5 MILLION IN TOTAL MARKET VALUE
The Class of 1956 Endowed Scholarship Fund finally rocketed past the $THE ONE MILLION DOLLAR mark ($1,004,414) on June 19, 2017. The wizardry of the ND Investment group shot the Invested Market Value to $1,565,812. $70,000 was made available for distribution to the three Endowed Scholarship award winners this past spring. for detailed information about the ND56 Endowed Scholarship Fund and student recipients: present and starting with 2001-2.
The University continues to maintain a steadfast commitment to need-blind admissions. ND continues to meet the full demonstrated need of all admitted undergraduates. Scholarship awards from the '56 Fund are unrestricted and recipients are selected by the University's Office of Student Financial Services. Please continue to keep the Fund in mind in your annual giving to Notre Dame. Specify "ND'56 Scholarship Fund" on the memo line of your check, the reply card to the ND Office, and a post-it note on the check as well. Gifts designated to the '56 Fund count toward your annual giving record and eligibility for the alumni football ticket lottery. The Class of 1956 Endowed Scholarship Fund is a perpetual gift to the University, helping students with scholarships in years after we are long gone from this earth. Larry repeats: we want to keep growing the Fund to "the last man".
Larry Kennedy, Chairman
---
<!###########################################> Julia M. Schaefer, wife of Don, died 8/10/17 in Wyckoff, NJ

Julia M. Schaefer (nee Byrne) age 82 of Wyckoff died Thursday, August 10, 2017. Born in Pittsburgh, PA she has been a resident of Wyckoff for 47 years. Julia was a parishioner of St. Elizabeth's R C Church, Wyckoff, NJ.

Surviving is her beloved husband of 61 years, Donald T. Schaefer of Wyckoff, her three devoted children, Thomas F. Schaefer and his wife Margaret of Atlanta, GA, Donna S. Gartner and her husband Steven of Scotch Plains, NJ, and Susan A. Schaefer and her husband John Maguire of Oakland, NJ. Also surviving are her ten grandchildren, Jennifer, Brian, Colleen, Theresa, Megan, Caitlin, Harold, Andrew, Kevin and Jack. Julia was one of seven children and is survived by three sisters, Mary Margaret Delaney, Jeanie Rohl and Joan Ferer.

Julia was always known for her hospitality and the sheer joy she would bring to any occasion. She will be dearly missed.

The family will receive friends on Monday, from 2-4 and 7-9 pm at the Vander Plaat Funeral Home, www.vpfh.com, 257 Godwin Ave. Wyckoff, NJ. A Funeral Mass will be on Tuesday, at 10 am at St. Elizabeth's RC Church, 700 Wyckoff Ave. Wyckoff, NJ. Entombment will follow at Maryrest Cemetery, Mahwah. In lieu of flowers, donations may be made in her memory to The Lustgarten Foundation, 415 Crossways Park Dr. Suite D, Woodbury, NY 11797, Lustgarten.Org. OR Macular Degeneration Research, A Bright Focus Foundation Program, 22512 Gateway Center Drive, Clarksburg, MD 20871, www.brightfocus.org/macular
Don's address is: 286 Birch Parkway,Wyckoff, NJ 07481-2831
---
<!###########################################> Captain Mark Prokopius,USN, commanding officer of Notre Dame NROTC this spring —

Conte son-in-law

Captain Mark Prokopius,USN, commanding officer of the NROTC unit at Notre Dame for the coming three years. The change of command will take place this spring

It is with a great deal of pride and joy that our daughter, Kathy's husband, Mark is a Notre Dame alumnus, class of 1990 with a BS in Electrical Engineering. He is originally from Seven Hills, Ohio, a suburb of Cleveland. Mark has spent his entire service time in the submarine force. Some of his most recent stations have been as commanding officer of the attack sub, New Mexico and as commanding officer of the sub tender, Emory S. Lang, out of Guam. He and Kathy are very happy to be returning to South Bend for this assignment. Kathy is an SMC graduate.
Frank Conte
---
<!########################################>

ENDOWED SCHOLARSHIP STUDENTS AND ND56 HONOREES NAMED FOR 2016-17

Larry Kennedy, Chairman of the ND56 Endowed Scholarship Fund, announced the Honorees for the three 2016-17 Scholarship Awards. The Notre Dame Student Financial Aid Dept. selected the students -- based on the individual student's needs. The ND Development informed Kennedy that our fund has generated some $70,000 total for 2017. Your Class Officers and past Honorees voted for Honorees.
 

ND56 HONOREES		     Endowed Scholarship Student "matchups" 
Honoree Robert J McKenty     Whitney Choo, Queens, NY
Honoree Thomas W. Powers     Michael Bicknell, Batavia, IL
Honoree Frank P. Tighe       Michael Buche Crestwood (Chicago), IL


---
ND 1956 HONOREE ROBERT J. McKENTY
As a grammar school kid growing up in Bayside, New York, in the 1940s, I loved listening to Notre Dame football broadcasts with my dad on his GE console radio. I got to hear not only the exploits of Leahy's "lads," but also Dad's reminiscences about Rockne's teams and the Four Horsemen. What a thrill it was for both of us—and quite a surprise for me—when I was accepted for the semester beginning in September, 1952  Dad, who never got to go to college but had a wonderful Jesuit education at Loyola Academy in Chicago, got to go to Notre Dame vicariously through me. Mom, a Presbyterian from Iowa, preferred the Hawkeyes, but developed a soft spot for the Irish. She became a Catholic after Fr. O'Brien—the first priest she had ever met—came to bless our new house on Long Island.

My years at Notre Dame were among the happiest and most fulfilling of my life. Fr. Hesburgh, preaching his first freshman mission, would tell us that "every real Notre Dame man goes to mass and communion every day." After 12 years of public-school education, I didn't even know there was daily mass, but if that's what it took to be a real Notre Dame man, I'd do it. I studied liberal arts, majoring in Sociology, particularly enjoyed math, languages (English, French and Latin), and those religion courses that were so new and exciting for me. I became an altar sever, tutored varsity athletes, babysat in Vetville for a piece of homemade pie, and wrote limericks about several of my dorm mates. A poem I wrote about "A Robin in the Snow" one May was published in Nick Kenney's column in the old New York Daily Mirror.

I had a very satisfying 36-year career with a life insurance company as a computer programmer, systems analyst, trainer and training manager, and personal-computer support guru.

  My wife Mary and I have been married for 57 years. We have two sons, two daughters, and a surrogate grandson, age 9, who beats me soundly at Yugioh.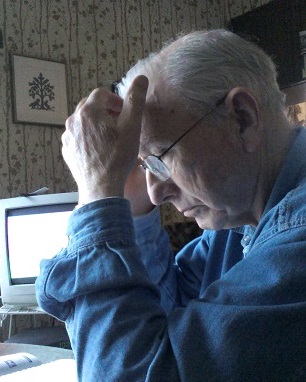 In retirement, I still go to daily mass, write light verse, read a great deal, cook, bowl, and take afternoon naps. You can find samples of my verse at www.lightpoetrymagazine.com.

Notre Dame provided an education to prepare me for life and work, values to sustain me, and friendships that have lasted a lifetime. I wouldn't trade those years for anything.

In closing

I'd like to earn
This epitaph:
He helped us learn;
He made us laugh.

—Bob McKenty, ND56
---
ND56 ENDOWED SCHOLARSHIP
RECIPIENT WHITNEY CHOO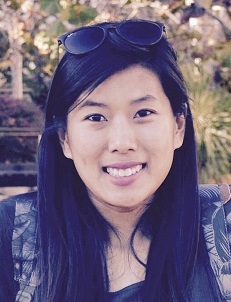 My name is Whitney Choo, currently a senior majoring in Computer Science. Originally I am from the borough of Queens in New York City, moved to Welsh Family Hall upon attending Notre Dame, and am now living off campus.

Upon graduating in May 2017, I will return home to New York City and work as a Technology Analyst for Goldman Sachs. I'm excited to start my post-graduation adult life back home with friends and family, and use the knowledge I've obtained from school and apply it to the real world.

My time at Notre Dame has been wonderful and exciting -- more than I could have expected when first deciding to enroll. In my junior year, fall 2015, I had the chance to study abroad in the heart of London. I had a special opportunity to remain within the Notre Dame community studying at 1 Suffolk Street, while also taking courses at Kings College London. Along with my weekend travels throughout Europe, studying abroad was an eye opening and adventure filled experience that I will cherish forever.

Aside from my study abroad experience, I'm also on the Ultimate Frisbee Club sport on campus. Joining as a sophmore, this will be my third year with it. I have made many memories with my teammates, and traveled to so many different states to attend tournaments.

I needed your support; I may not have been able to experience all that I have, and made all the friends that have become my best friends today. Thank you for your generosity and kindness.

Sincerely,
Whitney Choo
Notre Dame Class of 2017

ND56 HONOREE THOMAS W. POWERS
I was born and raised in Washington D.C. I think there were only 3 of us that came to ND from D.C. in 1952. Frank McCarthy and I from St. Johns and Bob O'Malley from Gonzaga. After my Bachelor of Arts degree from ND I went on to the University of Illinois for a Masters Degree in Labor and Industrial Relations and then off to California for my first job. While there I became the President of the Los Angeles Notre Dame Club 1966-68 and their man of the year in 1968. During this period four of our five children were born and I spent 6 years, 8 months and 3 days in the Air Force National Guard.

In 1975 through a series of acquisitions and transfers (6 wonderful years in Tulsa) within the same company, I landed in Danbury, CT as president and CEO of Qualcorp a 2,300 man subsidiary of the Penn Central Corporation. In 1977 we had our fifth child…. Margaret Mary's 40th birthday present.

In 1988 left CT to join Professional Service Industries as its Executive Vice President a 75 office consulting engineering firm headquartered in Chicago. PSI was foreign owned, and my mission was to grow the business rapidly, which I accomplished, acquiring 36 companies in less than 8 years. I enjoyed managing businesses, but this turned out to be the most fun I ever had working.

It thrilled my Riverside, IL born wife (now of 56 years) who went to Trinity HS and Rosary (now Dominican) College to return to the Chicago area where she still has family. We have resided in Naperville, IL since coming back to the Midwest.
Our three girls went to Providence, Villanova and NYU but the two boys are ND graduates. Tom, Jr. (1987) now a Monsignor and Vicar General of Diocese of Bridgeport, CT and Christopher (2000) a U.S. State Department Foreign Service Officer posted in Pretoria, South Africa. Christopher also married an MBA Domer. There are 9 grand children scattered throughout the world.

I retired in 2001 but Margaret Mary and I have been active throughout the years with many charitable, academic and support organizations. I am currently a member of the DuPage IL , and Lee County, FL ND Clubs .We still do case visits with the St. Vincent de Paul Society, have tutored Haitian children and Margaret Mary works in a food bank in FL where we spend our winters.
---
ND56 ENDOWED SCHOLARSHIP
RECIPIENT MICHAEL BICKNELL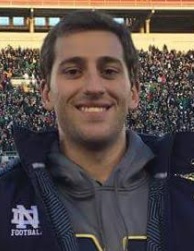 My name is Michael Bicknell, a senior at Notre Dame. I cannot thank you enough for your generosity in helping me to attend the University.. I, like many others, am a Notre Dame "lifer." Ever since I was old enough to walk, I have been coming to campus and enjoying sites such as the Grotto and Touchdown Jesus with my dad. Because of this, I knew that I wanted to follow in the footsteps of my dad, a 1979 alumnus. My biggest dream was to attend Notre Dame.

Unfortunately, my dream took a detour after I was not accepted out of high school. However, I did not let this initial denial hinder me from achieving my dream. I chose to attend Holy Cross College, where I was able to align my coursework with that of a first year student at Notre Dame. Luckily, I was able to achieve my objective, and was admitted as a transfer starting as a sophomore at Notre Dame.

Since coming here, I have been able to reside in the ever-famous "Dawg House," Alumni Hall. I am majoring in Sociology with a Business Economics minor while spending a majority of my time working for the football team as a student manager. With this background, I hope to eventually find success in the sports business industry. I hope to enjoy these final months at Notre Dame knowing that I have made a lifetime of friendships and memories. I am truly grateful for the generosity shown by the Class of 1956 Endowed Scholarship Fund for allowing me to live out my dream of attending Our Lady's University.
" Dear Class of 1956  - I am writing to again express my thanks to you for your kindness in allowing me to attend ND through your scholarship. You got the quick summary of my time at ND via the bio that I submitted to the Class of '56 website last semester, but I can't stress enough how much of a dream come true attending ND has been for me. Your generosity is greatly appreciated!  Sincerely, Michael Bicknell '17"
(He will be graduating May 21 and returning next year to ND for a Master's in Management Program (MSM).)

ND 1956 HONOREE FRANK P. TIGHE
My parents Frank and Anne sacrificed a great deal to send me to Notre Dame and I will never forget what those sacrifices did for me.  I grew up in the suburbs of Philadelphia attending parochial schools and graduating from West Catholic High School where I served in the Student Association and lettered on the Swimming Team.

While at N.D. I served as president of the Philadelphia Club.  During my senior year at N.D., I met the love of my life Jane Mary, a.k.a. Wary.  We were married in 1958 and in the following years raised our five children; Kathleen (SMC '81), Frank III (UND '82), Stephanie (UND  '83), Madeline (Rockhurst College '85) and Leo (UND '91). We now have eight grandchildren one of whom was a four year starter for the N.D. Softball team (UND '12).

After a 43 year career with the S&C Electric Company, a manufacture of equipment for the Electric Utility Industry, I am enjoying retirement with my lovely Wary. After graduation and a brief stint on the training program of the General Electric Company I served in the Army for six months of active duty followed by seven years in the reserves.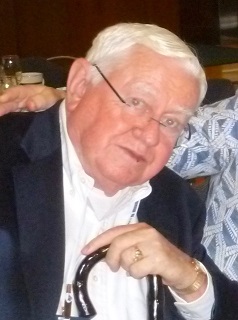 After my service time I joined S&C as an Applications Engineer and later as a territory man in Iowa, Oklahoma, finally returning to Chicago to handle the Commonwealth Edison Company account. I later served as Regional Vice President and then, the Vice President of Marketing. During my time at S&C I represented the Company at the Edison Electric Institute meetings.

While on a five year assignment in the Tulsa, Wary and I participated in the Marriage Encounter program at our parish and gave a number of these retreats.  I also served as President of the N.D. club of Tulsa . On returning to Chicago I was pleased to serve for ten years on the Board of Directors of Saint Francis Hospital, Evanston, Illinois.
---
ND556 ENDOWED SCHOLARSHIP
RECIPIENT MICHAEL BUCHE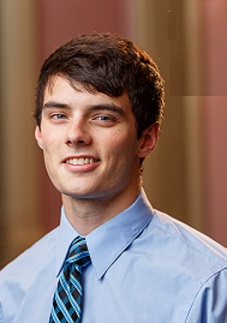 My name is Michael Buche, a Notre Dame senior. I thank everyone from the Class of 1956 Endowed Scholarship Fund for their generous support of the education of myself and many others — you all help us make our dreams come true!

I was born and raised in Crestwood, Illinois, attending Incarnation Catholic School and then Saint Laurence High School. For many summers before college, I caddied at Beverly Country Club. I am living in Siegfried Hall, and play interhall hockey. I made the marching band my freshman year on the drumline, and sadly I have just finished my last game with the band a few weeks ago. My time with the band will be one of my most treasured experiences of my four years here. I also am a part of the Robotic Football Team at ND, where we build and maintain a full team of football-playing robots. It is quite the engineering challenge, and you can find out more on our website if you are interested: www.nd.edu/—Ifc

My major and passion is mechanical engineering. I have pushed myself to learn as much as possible, inside or outside of the classroom. On top of the outstanding classes already required for my major, I was lucky enough to take several graduate-level courses and undertake research projects in the AME department. We truly have some of the greatest faculty in the world here! My most recent project is designing, building, and flying a 10ft long aircraft with four aerospace engineering seniors. The finished aircraft will carry a 201b modular payload and have full autopilot capabilities. The aircraft will make its debut in the air sometime towards the end of the spring 2017 semester.

This 2016 summer, I spent seven weeks in Beijing at Tsinghua University working on a project for General Electric Healthcare. I was part of a team with another ND student, three Tsinghua students, and two students from SUSTC (Hong Kong). Our task was to design new ways to assist users in manually positioning a large X-ray machine. While I learned a lot about working for a company like GE, I learned even more about working in an international team. I thoroughly enjoyed my time in China and I hope to go back someday soon!

Next fall, I will begin my graduate school career and start to work towards a PhD in mechanical engineering at one of the schools I am applying to now. I hope to work in one or more of the following fields: thermodynamics, theoretical mechanics, or plasmonics. It is strange to think that this time next year I will no longer be an undergraduate at the University of Notre Dame — it really does go by fast. Once again, thank you so much to everyone from the Class of 1956! My life has been forever changed after attending school here, and it would have never been possible without the generosity of great people like yourselves.

Thank you so much, and Go Irish!
Michael Buche ND 2017
---
Fr. Ted Memorialized by His First Class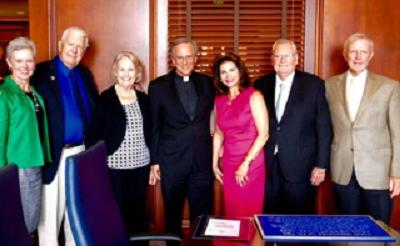 Suzanne and Bill Warren and Sharon and Bernie VanEtten met in the office Fr. John Jenkins, CSC on Thursday, Sept. 3 for an historic occasion: the presentation of a solid bronze plaque: "FOND MEMORIES OF FR. TED FROM HIS FIRST CLASS, ND56" . With Fr. Jenkins to receive it was Diane Parr Walker head of Hesburgh Libraries and Dr. Dan Crossen, Sr. Director, University Relations. Bernie read a letter from Fr. Hesburgh dated May 8, 2009. Included in it, Fr. Ted stated: I am proud of all of our graduates but you have a special place in my heart since you were the first to complete four years under my presidency, beginning in 1952.""

Shortly after Fr. Ted's death on Feb. 27, a core committee of four became involved in email and phone visits with the thought of creating a memorial from his first undergraduate class as President of the University of Notre Dame.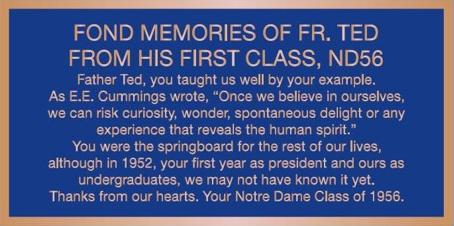 The diverse group included John J. Kelly, an engineer from New Orleans, Thomas Cagley, Sr, a liberal arts major from Baton Rouge, William K.Warren, a business major from Tulsa and John Manion, a sales/marketing manager from Palm Desert, CA. They labored to come up with the proper commemoration to present the University of Notre Dame --reflecting the specialrelationship the Class of 1956 had with our President Ted Hesburgh, CSC. Hundreds of communications took place to select the elegant bronze plaque and many more to come up with the wording to reflect the bond shared between the Class of 1956 and the new University President in 1952 — and to the day he passed away. Class treasurer Ed Cosgrove was added to the group — for his counsel and representing the Class Officers including Class Secretary Manion.

Bill organized the meeting to reflect our status as Fr. Ted's First Class during his first year as President of the University. The Class has worked together for many occasions over the past 60 years as Alumni —and their "footprints" can be seen throughout Campus. Bill and Bernie were joined by their wives, Suzanne and Sharon -- representing the entire ND56 family.
---
POPULAR B & B CLOSED ITS DOORS
THANKS ALL FOR THE ND BUSINESS

Dear past guests/friends,
We wish you a very healthy and happy 2017. David and I are happy to announce that we are retiring (again) and the Bed N Breakfast Registry will no longer be in business. We will keep our email for one year in case you would like to reconnect with any past host. Anne Luther, a longtime hostess, has her retreat home available throughout the year. Anne can be contacted at aluther@luc.edu.

May God Bless you and your family. We have been blessed to know you.
Wanda and Dave Shock

David and Wanda Shock Bed 'N Breakfast Registry 17346 McErlain Ave South Bend, In. 46635 888-830-7722 574-232-0774 bednbreakfastreg@sbcglobal.net www.bednbreakfastregistry.com
---
<!####################################################> NOTRE DAME CLASS RINGS

Many of us purchased our ND Class Ring some 55 years ago; and many of us purchased the ND Class Ring Miniature for our significant other at that time. Perhaps, the ring has cracked or the (probably blue spinel) stone has been lost. IF that is the case with you, we have learned that Balfour (the ring manufacturer) will provide service for any ND Class Rings... Normal wear on the gold band and engraving is not included under any guarantee.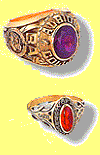 Package the ring securely (padded bag or box); send by insured (for $1000) and traceable mail (Priority USPS, UPS, FedEx, etc, with your $14.95 check (payable to Balfour Co.) to cover return shipment; a cover letter identifying yourself as Notre Dame alumnus, Class of '56; purchased ring from Notre Dame Bookstore; description of the problem/need; your return address and phone number. Keep your insurance/shipping receipt, and you'll receive a shiney ring back in less than a month.
Send to: BALFOUR COMPANY; 7211 CIRCLE S ROAD; AUSTIN, TX 78745; ATTN: CUSTOMER SERVICE/REPAIR UNIVERSITY OF NOTRE DAME. For regular mail message, address to P.O. Box 149107; AUSTIN, TX 78714-9107. Please DO NOT skip any of the above steps, and you will be delighted with the service.
As of April 1, 2016: there is a charge of $50 for re-sizing (for all rings older that 1972), $50 for re-furbishing and $50 for replacement of the stone, plus taxes -- plus the $14.95 noted above ...still a pretty good deal! There may be other needs, and Balfour will let you know any charges before proceeding. Do not prepay anything except the return mail charge of $14.95.
If you have questions, call the University of Notre Dame desk at Balfour: 800-996-8636. I spoke with Stephanie.
John Manion
---
ND56 CANCER SUPPORT GROUP

Classmates and their spouses have either learned that they "may have some form of Cancer", or must deal with appropriate procedures for Cancer. The ND56 CSG is comprised of folks of a tight demographic make-up. Classmates can make use of the very private and confidential counsel available in the ND56 Cancer Support Group.

SIMPLY CONTACT ONE OF THESE PEOPLE.
Rev. Tom Chambers, CSC -- Metairie, LA
(Prostate Cancer survivor; Class Chaplain)
504-830-3701 tchambers@willwoods.org
John F. Murray -- Lakeridge, VA
( Prostate Cancer survivor; retired attorney)
703/494-2482; jonnel662@verizon.net
Don Gothard - Washington, MI 48094-2683
Prostate Cancer Survivor since 2001
586-786-0035; donlgothard@aol.com
John Manion -- 78402 Silver Sage Dr.
Palm Desert, CA 92211-1348
Diagnosed Prostate Cancer
johndomer56@verizon.com 760-772-6056
R. Lawrence "Larry" Dunworth; Palm Beach, FL
Retired Ophthalmologist 304-529-7801
ND Science Advisory Council 1996-present
email: rldunworth56@frontier.com
Cancer Survivors tell of the necessity of getting an annual PSA or mammogram, and immediately using the knowledge and experiences of participation in the ND56 Cancer Support Group. You won't be TOLD that any procedure is better than another, but you can find out what the options are, and what the after-effects for each may be. Cancer research continues, and new procedures are found. But Cancer continues to kill! If you or your spouse is challenged with any form of Cancer, you need not be alone; not for a moment.
Please write John Manion to become a part of the ND56 CSG; state type of Cancer, date and treatment received, your name, address, phone and e-mail address. We send you a copy of the ND56 CSG Update, including your information.
NO information is available to those outside the ND56 CSG.
johndomer56@verizon.net
---
ND GRADS LISTED BY COMMENCEMENT
From the official commencement files at the University, below are listings of ND graduates for the years 55-58 (you'll find the majority of ND56 grads in the 1956 Classes) and our kids can be found in the 1975–1987 lists. They are listed by Commencement class, college, degree and alpha. The asterisks denote honors students.
1955-06-05 University of Notre Dame Commencement Program
1955-08-02 University of Notre Dame Commencement Program
1956-06-03 University of Notre Dame Commencement Program
1956-07-31 University of Notre Dame Commencement Program
1957-06-02 University of Notre Dame Commencement Program
1957-08-06 University of Notre Dame Commencement Program
1958-06-01 University of Notre Dame Commencement Program
1975-05-18 University of Notre Dame Commencement Program
1975-08-08 University of Notre Dame Commencement Program
1976-05-16 University of Notre Dame Commencement Program
1976-08-06 University of Notre Dame Commencement Program
1977-05-22 University of Notre Dame Commencement Program
1977-08-05 University of Notre Dame Commencement Program
1978-05-21 University of Notre Dame Commencement Program
1978-08-04 University of Notre Dame Commencement Program
1979-05-19 University of Notre Dame Commencement Program
1979-08-03 University of Notre Dame Commencement Program
1980-05-18 University of Notre Dame Commencement Program
1980-08-08 University of Notre Dame Commencement Program
1981-05-16 University of Notre Dame Commencement Program
1981-08-07 University of Notre Dame Commencement Program
1982-05-16 University of Notre Dame Commencement Program
1982-08-06 University of Notre Dame Commencement Program
1983-05-15 University of Notre Dame Commencement Program
1983-08-05 University of Notre Dame Commencement Program
1984-05-20 University of Notre Dame Commencement Program
1984-08-03 University of Notre Dame Commencement Program
1985-05-19 University of Notre Dame Commencement Program
1985-08-02 University of Notre Dame Commencement Program
1986-05-18 University of Notre Dame Commencement Program
1986-08-01 University of Notre Dame Commencement Program
1987-05-17 University of Notre Dame Commencement Program
1987-07-31 University of Notre Dame Commencement Program
---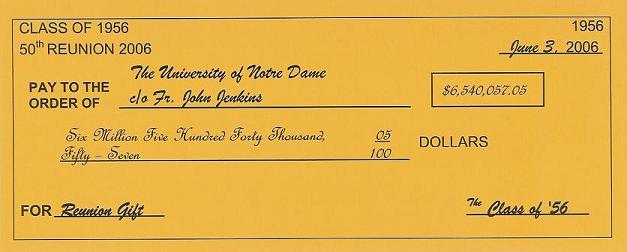 THANK YOU ND 56 CLASSMATES!
---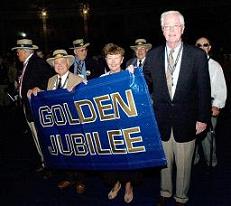 REUNION 2006 REPORT
For stories and 100s of photos from Reunion 2006,
please click on the picture to the left.
It will continue to be a work-in-progress as your comments about Reunion 2006 are invited.
It was a glorious weekend of June 1-4, 2006.


---
ND '56 Endowed Scholarship Class Honorees
and corresponding ND Student Scholarship Students.
YEAR
Class Honoree
ND Student Scholarship
2001-2002
John F. Manion
Caitlin Allen '02
2002-2003
Thomas A. Coleman
William Reilly '03
2003-2004
Michael J. Kiley
Nathaniel "Nate" Hudak '07
2004-2005
Fr. Thomas E. Chambers, C. S. C.
Jacob "Jake" Greiner '05
2005-2006
Prof. Steve Rogers
Pamela Dorsey '06
2006-2007
John J. Fannon
Tiffany Roberts '07 and Daniel Ott '08
2007-2008
Richard J. Yeager, Sr.
Daniel Ott '08, Tanya Ngo '08 and Stephen Govea '08
2008-2009
James P. Finnegan
Juliana Thimons '09, James McFarlane '09, and James Zenker '09
2009-2010
Daniel M. Boland, PhD
Mark P. Burns
Gordon J. DiRenzo, PhD
Zachary "Zach" Stackhouse '12
Amanda Cosfol '11
Joel Bricker '12
2010-2011
David Collins
Wayne Edmonds
Larry Kennedy
Seamus Laird '11
Jonathan Liedl '11
Amanda Cosfol '11
2011-2012
Dr. Angelo Capozzi
Donald Carlin
James Revord
Daniel Johansen '12
Allison Skow '12
Matthew Nagy '12
2012-2013
John "Jack" Kegaly
Leo Linbeck
Robert Welsh
Daniel K. Anderson, '13
Brittany D. Weems, '13
Elise A. O'Malley, '13
2013-2014
James "Jim" Mense
Paul Noland
William "Bill" K. Warren, Jr.
Bradley Stuhlreyer, '14
Daniel L. McCarthy, '14
Pat Nguyen, '14
2014-2015
Peter "Pete" Cannon
Edward Cosgrove
Donald Costello
Andrew P. McGloin '15
Conor T. Tallet '15
Justin L. Chen '15
2015-2016
Henry S. Dixon
Eugene P. O'Connor
Bernard H. Van Etten
John "Jack" Rooney '16
Peter O'Connor '16
Mariah Villasenor '16
2016-2017
Robert J. McKenty
Thomas W. Powers
Frank P. Tighe
Whitney Choo '17
Michael Bicknell '17
Michael Buche '17
---
WNDU News Editor Bob Simkins scores another scoop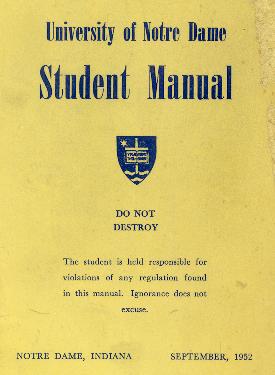 Bob Simkins has donated a copy of the '52-'53 Student Manual which was received at his home in Manitowoc, Wis with a note (printed below) from the University folded inside.

Bob has graciously furnished his copy of the 1952 Student Manual. We have scanned it and if you click on the picture of its cover you can read the manual from cover to cover. Thanks to Bob, now you can prove to your Grandkids that you did indeed have "Morning Check" and evening curfews.

Thanks Bob, and as you used to say at WNDU, "that's the three oh mark for tonight"
Dick Yeager

UNIVERSITY OF NOTRE DAME

Notre Dame, Indiana

OFFICE OF PREFECT OF DISCIPLINE

To: Parents of Notre Dame Students

In order that you might have a better understanding of the workings of the University, we are sending the copy of the Student Manual to all parents and guardians of the freshman students at the university. The University Administration believes that the parents can be of untold help to us in encouraging their sons to understand and abide by this Manual. We realize parents of Notre Dame students are our closest aids in achieving the ends and purposes of the University, and in order that we may capitalize on this source of support we believe a full understanding of the University regulations on the part of parents is the best manner to achieve this end.

With best personal regards to you and your family, and with the promise of remembrance in our prayers and Masses, we remain

Sincerely yours,

THE COMMITTEE ON DISCIPLINE
The University of Notre Dame
---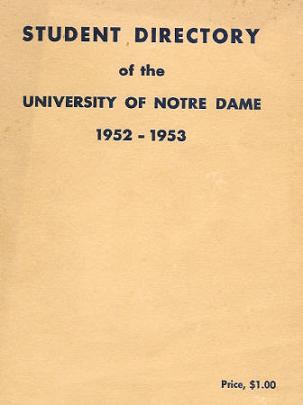 Freshman Directory
Bob Simkins was gracious enough to give us a copy of the Student Directory for 1952-1953 that he had saved over the years.
That of course was the Freshman year for the class of 1956. We thought it would be fun to extract the information for all those people who had a class year of "1" by their name.
Then we sorted it four different ways.
If you are curious about someone from a particular city you can use the list sorted by
"State, City and Last Name".
If you just want to look up a name use the "Last Name, First Name" list.
There is a list titled "Dorm, Room and Name" which can tell you just who lived on the same dorm floor (or off campus) as you did.
And finally we included a list of "College, Last Name".
Click on the picture of the Directory to enjoy its content.