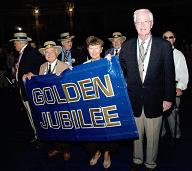 REUNION 2006 REPORT
ND56 REUNION 2006 CO-CHAIRMEN REPORT
All things considered it was a great reunion weekend. The custom hat and shirt turned out to be winners. The only mixup was the fact that Cutter and Buck ran out of XXL material and these items will be shipped direct this month.The class officers and Ben Cardella managed the distribution The Thursday night dinner under the tent was excellent, maybe the best meal I have had at ND, and praise the Lord -- it did not rain. We fed about 400 alumni and guests. We had bars set up in the Welsh hospitality center as well as the tent; we hired three Doctoral students as bartenders, plus six classmates pitched in each night as needed -- no one complained. Friday was literally dawn to nightfall. We started with a 72-golfer shot gun coutesy of Bill Warren. Bill Stotzer and Al Biermann organized the program and awarded Bill Warren an ND Golf team jacket for his kindness. It seems a little strange, but Stotz shot a 79 and won a silver plate presented by Bill Warren for low gross. At 1:PM, we had an exclusive session with Coach Charlie Weis in Washington Hall -- thanks to help from Bob Welsh. Many people said this was one of the highlights of the trip. We had a Class Mass together with the 50-Year Club; the liturgy was planned by Jim and Pat Revord and Father Tom Chambers; Fr. Marty Devereaux was concelebrant.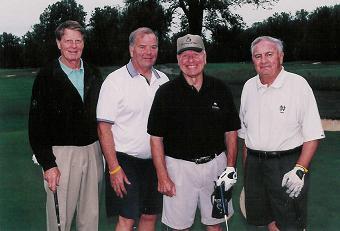 The Class dinner was in the Joyce center and featured the MAN HIMSELF, Father Ted Hesburgh, who absolutely was a major highlight of the weekend. He stated that two key accomplishments during his trenure were turning the control of the University to a Lay Board and the admission of women -- not a bad record since it has shaped the future of our school. The Class gave him a box of Cuban cigars and a box of Frank Sinatra's private stock as our thank you -- it's his only vice. Don Carlin presented this year's Community Service Citations: Paul Hurley, Bill "Toad" Ryan, Jim Finnegan, Dick Van Mele, Dick Jacob, Tom Curran, and Frank Diorio. We also introduced Classmates who have participated in lay leadership by serving on the Board of Trustees, Alumni Association Board, Advisory Boards,and four current faculty members. The results of the Officer elections were announced with Mark Burns and Gordon DiRenzo re-elected to their second and final five-year terms as Co-Presidents; Mike Kiley returns as Treasurer, and John Manion as our Secretary. The Regional VP's include returning Sid Wilkin, East, and newly elected Paul Noland, Midwest; Jerry Kenny, West, and Don Moser, South. Larry Kennedy will continue as Chairman of the Scholarship Fund program. Our sincere thanks go to retiring VP's Angelo Capozzi, Roy Luckett and Larry Kennedy. The evening was sprinkled with poetry by Bob McKenty; Dick O'Keefe sang "Danny Boy", and the ND56 Glee Club Quartet sang a medley of songs of the Fighting Irish. The still-talented vocalists were John Goedecke, Bill Jackman, Ray Papay and Jerry Pottebaum. It was a fabulous three hours that seemed like 45 minutes.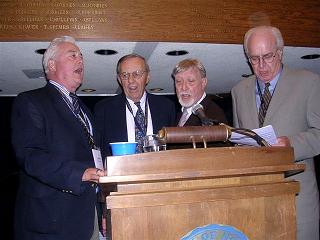 ND56 Glee Club Quartet
Saturday had an early rise for the 8:15 Class picture followed by seminars. We had a private luncheon with Father John Jenkins and our induction into the 50-Year Club. Every alumnus was given a certificate and an personal photo with Farther Jenkins. On our part, the ND56 officers presented Father with a check for $ 6,540,057.06 representing our contributions in the last year. Larry Kennedy noted that our Class Endowed Scholarship is $596,374 -- thanks in part to a $ 100,000 gift from John Fannon that put us over the top of our targeted $500,000. The day continued with seminars -- it should be noted that our Class sponsored eight seminars by seven Classmates. Presenters included Gordon DiRenzo, Jim Finnegan, Bill ( Toad) Ryan, John Kelly, Gerry LaPeyre, Bob McKenty and Dave Brucker; Pete Campbell was sponsored by the Senior Alumni Board. We had a Mass at the Basilica with Fr. Hesburgh as the homilist. A procession at the ACC for our Grand March left some to be desired, but we all were seated.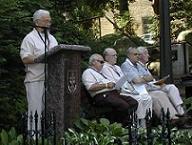 Sunday featured a new event that was meaningful. We had a Memorial Service for our deceased Classmates at the Grotto. Jim Revord organized a short liturgy and, with " Notre Dame our Mother" playing softly in the background, the ND56 officers read the names of our 257 deceased classmates. It was a moving and a beautiful tribute. We had our closing breakfast at the South Dining Hall. We appreciate and were delighted with the efforts of so many Classmates. I have mentioned many of the people already but want to thank our Class Officers who organized the contacting of Classmates; 337 Classmates attended -- and a total of 582 with partners.

Mark Burns and Gordon DiRenzo
---
<!###############################> View the Reunion 2006 Class Picture

Click HERE to view the class picture.
---
<!###############################> ND56 SPONSORS SEVEN MEN FOR SEMINARS

The ND Alumni Association organized over 70 seminars for presenation during Reunion 2006; eight of them were given by seven classmates;
click HERE to see what they had to say (hope you were able to be a part of it.):
---
<!################################> FR. TED GETS A RIDE HOME

From Patty and Jim Revord...
My wife and I had a very special experience that I wanted to tell you about. As you know, Father Hesburgh gave a very positive talk at our '56 Class dinner on Friday night. After dinner, Father Tom Chambers was walking Father Hesburgh very slowly out to the parking lot. Father Tom was gently holding Father Hesburgh because Fr. Hesburgh has Macular Degeneration and cannot see very well at all. My wife and I were also walking towards the parking lot as we had parked our car just outside the ACC.

Father Tom asked if we had a car and I replied "yes"....he then asked if we would mind giving Father Hesburgh a ride back to his residence at Holy Cross Hall. I facetiously replied " Let me think about it!!". They both laughed as I escorted Father Hesburgh to my car and opened the Passenger side for him to enter our car. The Security guard at the gatehouse near the Morris Inn stopped us, looked at the passenger in the front seat and needless to say, we had NO problem getting on campus.

My wife and I had an amazing grace filled twenty minutes with him. We discussed things like the Marriage Course that he helped start at Washington Hall, the Christian Family Movement, and YCS. Because of his poor eyesight we had to drive slowly ( which was fine with me) as we navigated back to Holy Cross Hall. My wife said she felt like we had had "Jesus" in our car.

When we arrived at Holy Cross, my wife and I both got out of the car and Father Hesburgh gave us his blessing. On a spur of the moment impulse, as a Permanent Deacon, I asked if I could give him my blessing. He said he would be honored, and Patty said he had tears in his eyes as I blessed him... And, I had "goosebumps" as I did the blessing. WOW !! Talk about an experience with your "hero"! Needless to say, we did not have a camera for a picture of the three of us.
---
<!#################################> Class of '56 Sets Giving Record

When the men of Notre Dame's Class of 1956 returned to campus in June 2006 to celebrate their 50th reunion, they brought with them their well-documented spirit, kindness, and generosity.

In the year leading up to their 50th reunion, class leadership worked with the Annual Fund's Reunion Giving Program to create a 50th Reunion Class Gift. Their combined efforts yielded a class participation rate of 68.9 percent and a gift of $6,563,842.55 – a reunion class record for dollars raised.

In addition, the class leaders set a reunion goal of $500,000 for the Class of 1956 Scholarship Fund. Classmate John Fannon responded to the call with a lead gift that set the movement in the right direction. When the effort was completed, over 84 percent of his class joined him in exceeding their goal.

The class' willingness to give back to Notre Dame, and the dedication and drive demonstrated by fund chairman Larry Kennedy, increased the fund's value to $606,589.42 – far exceeding the lofty goals set prior to Reunion Weekend. The class intends to continue growing its scholarship fund, as they want their legacy to help future generations of students attend Notre Dame.

The Notre Dame Annual Fund's Reunion Giving Program would like to thank the Class of 1956 for their generous gift to Our Lady's University. Special thanks go to Mark Burns, Gordon DiRenzo, and Larry Kennedy for their dedication and leadership during the 2006 Reunion Giving Campaign.

Every year, the University's Annual Fund staff work with the leadership of each class to organize a class gift to present to the University during Reunion Weekend. In the spirit of reuniting as a class at this special time, the main objective of the effort is class participation. Any gift made to the University between July 1 and June 30, during the year leading up to the reunion, is included in the class gift totals.

The Notre Dame Annual Fund's Reunion Giving Program presents a great opportunity for classmates to pull together as a class and commemorate their place in Notre Dame history. Congratulations to the Class of 1956 for doing just that with their record gift and inspiring legacy. And, thank you for serving as an inspiration for all future reunion classes.
---
<!##############################>
| | |
| --- | --- |
| | Click on the teeth to read comments about Reunion 2006 from our classmates. |
THURSDAY NIGHT BUFFET
Folks who enjoyed the (June 1) Thursday night tent buffet at Reunion 2006, but did not have an opportunity to prepay on the reservation form sent to Classmates by our Co-Chairmen in April... please send your check in the amount of $25 each plate to Mike Kiley..

P.O. Box 899; Marion, IN 46952. The University is charging ND56 for dinners beyond our paid reservation count..

The buffet was not a part of the REUNION 2006 package offered by the ND Alumni Association; we really will appreciate your help with this. Thanks much!
| | |
| --- | --- |
| On your travels to and from the campus you probably passed this fireplug. Did you see it? | Father Bob Pelton arrived at the grotto on Sunday morning via his battery powered bicycle. |
REUNION 2006 Class of 1956 Dinner;
Friday, June 2, 2006
Presentation by Class Poetlaureate,
Bob McKenty
NOTRE DAME REVISITED
(50 Years Later)

The Fieldhouse that we still recall
Was razed. At Notre Dame du Lac
The Navy Drill Hall's gone, and all
That's left of Vetville is a plaque.
Our Huddle where we'd all repair
For shakes and burgers is no more.
The bookstore built when we were there?
Replaced by yet a bigger store.

There's now a new periphery
Extending to remotest parts:
Bill Warren's links; this ACC;
A Center for Performing Arts.
To see it all you'll need a bike


2006 Participation 7/1/2005
through 6/30/06;
Thanks, ND56 Classmates!

It's growing still, with more to come.
The campus is expanding like
The waistline of an old alum.
| | | | |
| --- | --- | --- | --- |
| Rank | Class | Participation | $ Raised |
| 1 | 1956 | 68.9% | $6,563,842.55 |
| 2 | 1961 | 63.1% | $3,724,947.64 |
| 3 | 1976 | 62.8% | $1,811,495.57 |
| 4 | 1981 | 62.3% | $1,299,805.98 |
| 5 | 1966 | 61.2% | $1,256,406.68 |
| 6 | 1971 | 59.1% | $2,675,774.77 |
| 7 | 1986 | 54.7% | $817,015.74 |
| 8 | 2001 | 50.7% | $173,713.85 |
| 9 | 1991 | 49.6% | $448,250.49 |
| 10 | 1996 | 48.1% | $273,481.60 |
The campus of our later teens
And early twenties couldn't last.
Yet still there are familar scenes
To link us to our golden past.
A recently regilded Dome,
And soaring steeple rising near
Remind alumni we are home
And always will be welcome here.

The place we prayed before we'd take
Exams, the Grotto carries on
Beside serene St. Mary's Lake.
(I think I recognized one swan.)
Our dorms endure, like Dillon Hall,


Congratulations on achieving the highest participation rate amongst the 10 reunion classes, and beating your Class's previous participation record.

And Sorin, Lyons, and St. Ed.
Our favorite landmark of them all?
The Silver Dome of Fr. Ted.

Copywrited by Bob McKenty 2006
---
<!#####################################> ND56 CLASSMATES CITED FOR EXTRA-ORDINARY COMMUNITY SERVICE;
DON CARLIN PRESENTS 2006 CITATIONS AT FRIDAY NIGHT CLASS DINNER.

Introduction

There are many ways to help those in need. One can simply contribute money to support worthy organizations that provide assistance. Or, one can go a step further and serve on the board of such an organization and contribute time as well as money to their support. A third way, which we are focusing on this evening, is to go forth and interface with those in need and help them in the most direct way possible by our presence, our efforts, and our example. That is the most difficult, but perhaps the most effective, way to help others.

This envelope identifies a few of our classmates and summarizes activities of theirs that fall into the third category referred to above. Please note that these are merely examples of what some of our classmates have done. They are provided in the hope that they might serve as an inspiration to the rest of us. There are undoubtedly many others in our class that deserve recognition. Providing a few specific examples was not intended to imply that there are not others.

Perhaps you are aware that one of our classmates has given a tremendous amount of time and effort to help others in need. If so, please provide the appropriate information to John Manion and he will include it in one of his forthcoming newsletters.

Five years ago, at our last Reunion, we recognized ....

Joe Blackman for assisting low-income Hispanics prepare their tax returns, and helping low income blacks repair and rebuild homes damaged by Hurricane Floyd;

Angelo Capozzi for his work in Latin America performing plastic surgery on small poverty-stricken children in remote mountainous areas;

Tom Cagley for his radio program in which he reads the local newspaper for the visually impaired, and for visiting children two nights a week in the local pediatric hospital;

Pete Campbell for creating a system in Guatemala which enables semi-skilled technicians in field hospitals to communicate with physicians in Guatemala City, and for driving a truck to distribute food to the needy in the Raleigh area;

Jim Connelly for taking 25 foster children into their home, along with the eight children of his own;

Ed Denn for counseling individuals with chemical dependency, and for serving breakfasts and dinners to the homeless;

Don Gothard for counseling inner city residents on their financial situations, encouraging inner city children to excel in school, and working to create a community center within the inner city;

Dan "Bud" Quigley for helping first generation immigrant families and disenfranchised minorities purchase their first home through his work with the St. Joseph's Carpenter Society;

Jim Revord for his work as a Deacon, serving meals to recovering alcoholics and drug abusers, ministering to recent widowers, and serving as an overnight chaplain at a local hospital;

Dick Yeager for creating and then managing a soup kitchen in Pompano Beach, Florida.

It is not surprising that the wives of so many of our classmates work side-by-side with their husbands in performing the community service that they have chosen as a couple.

This year we recognized the following seven classmates.
Please click on the name of any recipient to read their citation.
We assume that there are many more and that these summaries are merely representative.

---
<!#############################>

CLASS DINNER - FIFTIETH REUNION
OPENING REMARKS AT AFTER-DINNER PROGRAM



and

INTRODUCTION FOR FATHER HESBURGH:

Co-President Gordon J. DiRenzo

PLEASE CLICK HERE FOR GORDON'S REMARKS
---
<!#######################################>

<!Narrow the presentation>
Jim and Mary Hlavin with Dr. Kathleen Sullivan.
Dr. Sullivan does the Covey program for teens. A great way to have our g-children see the campus and be exposed to the great teaching abilities of the ND faculty.

Click on the picture to see other pictures Jim took during Reunion 2006.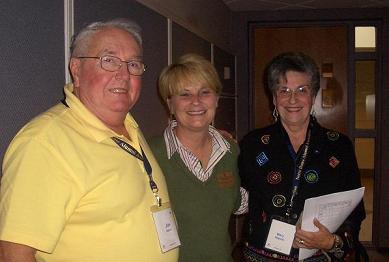 ---
<!#######################>

<!Narrow the presentation>
Pictures by Marty Kyle

Marty Kyle was able to get many pictures of his Chem E classmates.

Click on his picture of Coach Weis to view his pictures.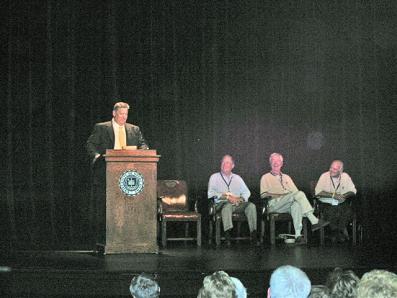 ---
<!#######################>

<!Narrow the presentation>
Gerri Cenedella (Phil Cenedella) enjoys Reunion 2006
Click on the picture of Gerri Cenedella sharing a moment with Mike Carr; a good friend of Phil Cenedella to see other reunion pictures sent by Gerri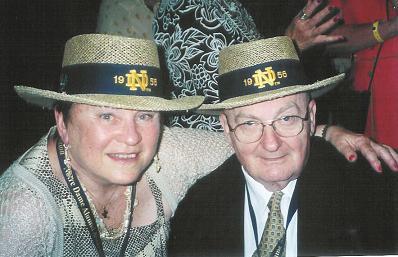 ---
<!#######################>
---
<!#######################>

<!Narrow the presentation>
John Sowa shares these pictures of Reunion 2006
Click on John's picture to see more.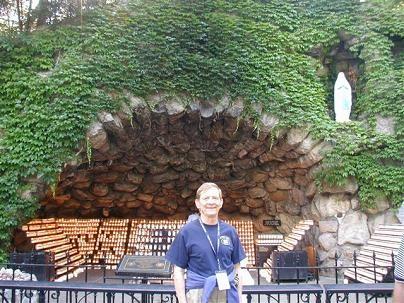 ---
<!#######################>

<!Narrow the presentation>
Bill Barron shares these pictures of Reunion 2006
Click on Bill's picture to see more.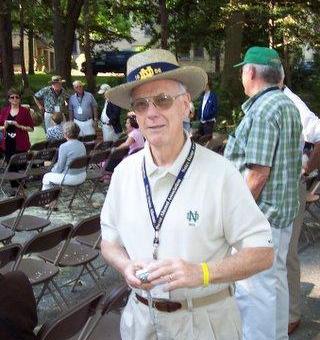 ---
<!#######################>

<!Narrow the presentation>
Jerry Rigsby shares these pictures of Reunion 2006
Click on Jerry's picture to see more.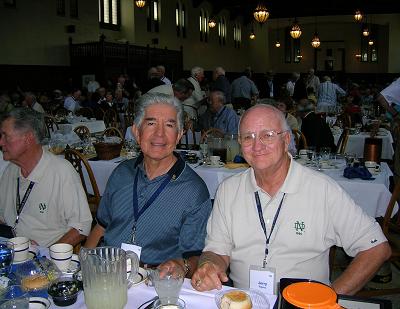 ---
<!#######################>

<!Narrow the presentation>
Lou Malandra shares these pictures of Reunion 2006
Click on Lou's picture to see more.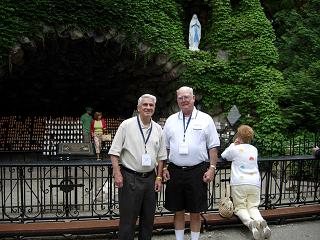 ---
<!#######################>

<!Narrow the presentation>
Gordon DiRenzo shares these pictures of Reunion 2006
Click on Gordie's picture to see more.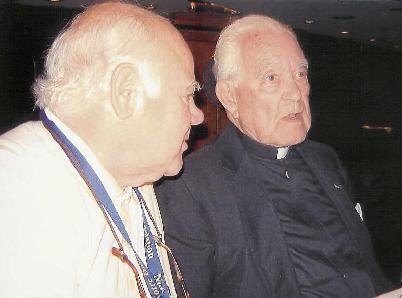 ---
<!#######################>

<!Narrow the presentation>
Dick Prather shares these pictures of Reunion 2006
Click on Dick's picture to see more.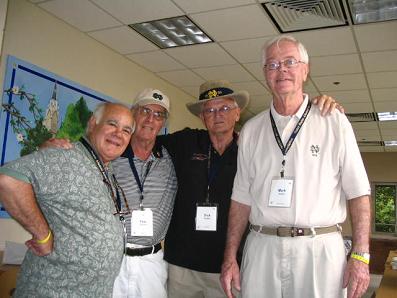 ---
<!#######################>

<!Narrow the presentation>
Bob Cichocki shares these pictures of Reunion 2006
Click on Bob's picture to see more.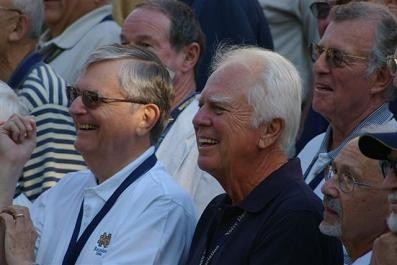 ---
<!#######################>
---
<!#######################>

<!Narrow the presentation>
Photos taken by Claire and Hal Spencer
Click on the Spencer's picture to see more.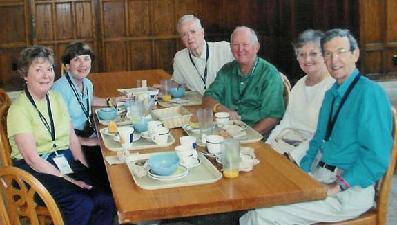 ---
<!#######################>
---
<!#######################>

<!Narrow the presentation>
Photos taken by Don and Doris Gothard
Click on the picture of Don and Doris Gothard for some great pictures of Jack Maloney, Roger Oswald, Don Gothard, & Bob Minck and their wives.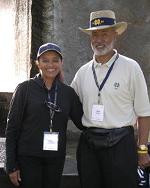 ---
<!#######################>

<!Narrow the presentation>
Photos taken by Dick Yeager
Click on the picture of Dick and John as they say good bye Sunday morning in the hospitality room.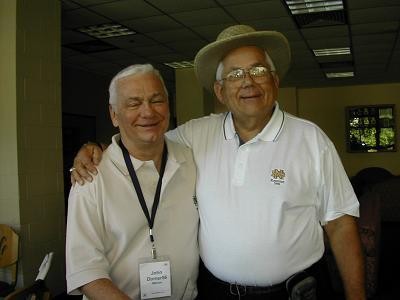 ---
<!#######################>

<!Narrow the presentation>
Photos taken by Tom Mullen
Click on the picture to view Tom's pictures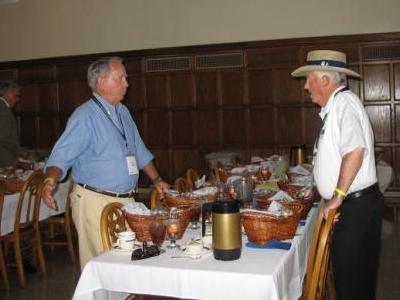 ---
<!#######################>

<!Narrow the presentation>
Photos taken by Frank Tyler
Click on the picture of Frank and Blanch to view their pictures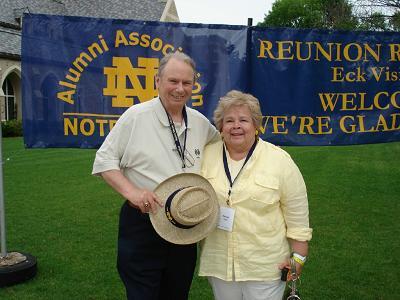 ---
<!#######################>